Posted by Jonathan Maus (Publisher/Editor) on February 9th, 2008 at 12:11 pm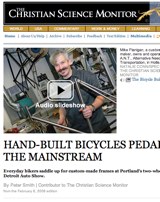 Mike Flanigan in the CS Monitor.
One of the most important keys to the success of the North American Handmade Bicycle Show (NAHBS) is the media coverage it generates.
Local and national news outlets from both the cycling and mainstream media are covering all the action. And this year, with the show in Portland, the stories often feature Portland builders.
Here's a little rundown of some of the recent coverage.
Yesterday's edition of the Christian Science Monitor ran a story with the headline, Hand-built bicycles pedal into the mainstream and referred to the show as the "two-wheeled version of the Detroit Auto Show" (that must have made the Interbike folks cringe).
The story featured an audio slideshow with builder Mike Flanigan of Massachusetts-based A.N.T. Bikes (who will be joining me and others in a city bike seminar tomorrow) and worked in a quote from myself, Sacha White of Vanilla Bicycles and others.
The Oregonian business section put the show on its front page this morning (too bad the bike in the photo is a re-habbed GT and was not handmade). Their story included quotes from Natalie Ramsland of Sweetpea Bicycles and mentioned the Lance appearance last night along with the big announcement by Rapha.
Also this morning, Matt Pacocha from VeloNews published a great article on Sacha White and his Speedvagen program.
There's sure to be plenty more media attention for this show. To help keep you in the loop, I've put a NAHBS Newswire in the sidebar (below the top stories) and I'll keep that updated as I come across more stories.