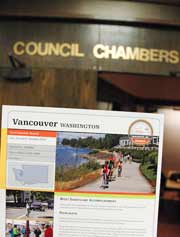 (Photo © Jonathan Maus)
Last night, Vancouver City Council decided to postpone their vote on a new helmet ordinance. The ordinance, which initially sought to only apply to kids under 18 years old, is now likely to apply to everyone.
Jan Bader at the City Manager's office told me that the Council did not pass the ordinance last night and instead, "sent it back to staff for revisions to make it all ages."
"We're going to rework it," she said, "and look at suggestions from testimony received last night from local bike clubs."
Vancouver Bicycle Club President
Corey Rose testifying in support of an all-ages
helmet law at City Council last night.
(
Watch the meeting here
.)
One of those clubs is the Vancouver Bicycle Club. I spoke to club President Corey Rose yesterday. He said "I just think everyone on a bike should have a helmet," and he confirmed that the club sent a letter recommending the all-ages provision to Council.
City Manager Bader added that she thinks the Council is unanimous in its support for an all-ages provision and that the issue will likely be back in front of council for a vote by the end of February.
For more on Vancouver's push for an all-ages helmet law, see the article I published yesterday.
Click here to watch and listen to the helmet ordinance being discussed at last night's City Council hearing (includes public testimony both for and against).
Also read the article on this published today in The Columbian.
Stay tuned for details on upcoming City Council meetings and hearings regarding this issue.