Friday's Critical Mass in downtown Portland.
More photos here
(Photos © Jonathan Maus)
Around 60 Portlanders remembered Critical Mass last Friday. While that number may seem low, it was the biggest turnout the ride has seen in many months.
After seeing signs of a resurgence, I showed up to Friday's ride (for the first time in over a year) to see how it would go.
We met under the Burnside Bridge and, with no cops in sight, the mood was vintage Critical Mass. I chatted with friends, met a few new ones, and passed out Bike Bulletins (thanks Carl).
Just before the ride began, we were treated to a human pyramid, a feat of acrobatics that seemed to set the tone of the night.
As we rolled out (still sans cops), the folks at the front of the pack led us on a random, looping excursion through downtown. Shouts of "Happy Friday" rang out along with our bike bells and the mood was mellow.
With about 60 or so riders, we had enough of a mass to roll through stop signs and stop lights without too much trouble. Folks stepped up and corked intersections when necessary, and there were no problems with downtown traffic.
I pulled off a bit early, but heard later that the ride swung up to the Convention Center, site of the just-opened Portland Auto Show. A text message from someone still on the ride confirmed that Critical Mass had morphed into a mobile dance party at the entrance of the Auto Show (see photo below).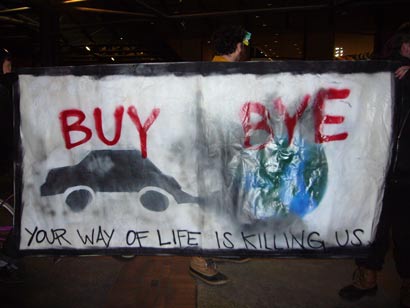 Banner displayed by riders who gathered at the entrance to the Portland Auto Show and danced the night away.
(Photo by Mark Wheatly)
Friday's ride will likely be considered a success: Good vibes were spread, bikers came together, there were no tickets issued and no car/bike incidents that I am aware of.
But, with just 60 people on a Critical Mass that was supposed to be a re-birth of the once huge ride, it seems fair to think that many Portlanders have moved on to other ways of showing that "bikes are traffic".
For a few more photos, check out my photo gallery.
If you have questions or feedback about this site or my work, feel free to contact me at @jonathan_maus on Twitter, via email at maus.jonathan@gmail.com, or phone/text at 503-706-8804. Also, if you read and appreciate this site, please become a supporter.