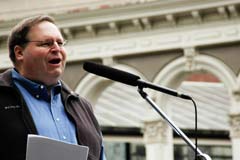 Chris Smith at his campaign
announcement this morning.
Watch video below
(Photo: © Jonathan Maus)
This morning in front Skidmore Fountain, as MAX trains rumbled by, a small group of supporters and onlookers heard transportation and neighborhood activist Chris Smith make the first speech of his campaign for Portland City Council.
I've seen and heard Smith at countless meetings over the years, but now it's a whole new ballgame.
I'm excited for the potential that someone with so much transportation and bicycle smarts might become a city commissioner (especially if he's sitting next to Sam Adams).
During his speech, Smith outlined some of the reasons he "fell in love with Oregon" when he moved here 20 years ago. Not surprisingly, most of the things he loves have to do with transportation. From the speech:
"I love the 200-foot blocks that make Portland so walkable and always keep the sky in view.

I love that a lot of us leave our cars at home and take transit – by choice, not by necessity.

I love that we killed a freeway project and build a light rail system instead. And ripped out another freeway to re-connect our downtown to the river.

…I love that we realized that the transportation system that originally spawned so many of those neighborhoods that we love, the Streetcar, could build new neighborhoods and add even more vitality to our city.

I love that we drive more hybrid vehicles per capita by far than another other U.S. city. I love that our bikeways sometimes have congestion and that once a year we close our bridges so that tens of thousands of us can swarm over them on bikes and on foot."
Faces in the crowd included: former BTA Executive Director of the BTA (and now Director of the Westside Transportation Alliance) Karen Frost; the BTA's current Interim Executive Director Scott Bricker; transportation advocate and head of the Swan Island Transportation Management Association Lenny Anderson; and others.
Also today, Smith launched his campaign website/blog where he's already posted the full transcript of his speech.
Check out video footage below thanks to Dan Kaufman of CrankMyChain! Cycle TV: