Karen Stiles is worried about
efforts to limit bicycle use
on the Willamette Greenway Trail.
(File photo)
Business is good for Karen Stiles who owns Waterfront Bicycle Rentals on the RiverPlace Esplanade just south of the Hawthorne Bridge. Part of the reason is because the popular Willamette Greenway Trail is all that separates her storefront from the river.
The trail is listed on maps as a multi-use path that is open to bicycles.
However, since the beginning of June, owners of condominiums located above Stiles' business have pressured the Portland Parks Bureau (they manage the trail) to do something about bicyclists who ride too fast on the trail and put residents, strolling tourists, and diners in danger.

"It's an accident waiting to happen," says Karen Hinsdale, president of the RiverPlace Planned Community (a homeowners association). Hinsdale says they've been working on this problem for years and that recently it's gotten much worse.
Their first approach was to work with the City to designate an alternate bike route that would encourage cyclists to use a different route through the area. The bike route was created (using SW Harbor Way and SW Montgomery), but it hasn't kept cyclists off the Greenway Trail. They've also tried asking cyclists to slow down and walk. That (not surprisingly) hasn't worked either.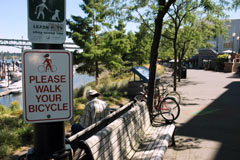 This sign is ignored by most cyclists.
(File photo)
So as a last-ditch effort, back in June Hinsdale put up an a-frame sign in the middle of the path with a graphic of a bicyclist and a big red line going through it (the international symbol for "no").
According to shop owner Stiles, the sign unfairly singled out cyclists and just made matters worse.
"Right away, the sign caused confusion," claimed Stiles, "Many cyclists would stop in my shop and ask, 'what in the world is going on?'".
Stiles says the sign itself caused the conflict,
"The sign was creating all kinds of chaos. People were getting into shouting matches…we even had an altercation with a security guard who actually karate-chopped a woman and forcibly removed her from her bike (the employee was let go after Stiles complained). The security guys were jumping in front of my customers as they left the shop."
She says the situation causes confusion because the Willamette Greenway Trail is listed on maps (Such as Metro's Bike There! map) as a path that is open to bicycles.
Stiles is worried that bicyclists are being unfairly singled out and that the homeowners association has crossed the line in trying to dictate who can and can't use the path.
As for the sign, Stiles immediately complained about it to the Parks Bureau and after "numerous conversations" and over the course of three weeks, the sign was finally removed. Parks officials told Stiles they planned to re-work the signage and put them up again at a later date.
Things have calmed down since the signs were removed, but Stiles is worried that the signs could return this weekend.
That's not going to happen, according to Parks district manager Bob Downing. He said he'd rather wait until a larger public conversation takes place. Downing has been in touch with city bike coordinator Roger Geller and they've put the issue on the agenda of the City's Bicycle Advisory Committee.
Downing says he wants to make sure the solution is acceptable to all sides,
"We need to address the situation holistically (he also plans to visit cafe owners to make sure their tables and chairs are within code standards). We hoped the signage (see below) would would address the situation, but they don't work for everyone involved. This has been a problem for a long time and I'm not going to make everyone mad by trying to fix it too soon. We need to have more dialogue on this."
Here's a look at the signage they're considering:
Hinsdale says she doesn't want to prohibit bikes, but hopes courtesy and compromise prevail,
"We want people to walk and we need them to be more cautious…I think in most cases, people just don't realize they're entering a highly congested area. It's an issue of all of us learning to be courteous to one another. There's got to be a compromise in here somewhere."
The issue is on the agenda for the next Bicycle Advisory Committee meeting on August 14th.
If you have questions or feedback about this site or my work, feel free to contact me at @jonathan_maus on Twitter, via email at maus.jonathan@gmail.com, or phone/text at 503-706-8804. Also, if you read and appreciate this site, please become a supporter.