Posted by Jonathan Maus (Publisher/Editor) on July 25th, 2007 at 2:43 pm
My wife Juli is currently looking to outfit herself with a family bike and the options are staggering.
She's been obsessed with looking at all the different bikes, child seats, trailers, trail-a-bikes, and other equipment. When you've got to run around town with two growing kids (one almost 2, the other 4 1/2) and whatever other stuff you're hauling or picking up, there's a lot to think about.
Finally, we've settled on a preferred alternative: an Xtracycle with a child seat mounted to Juli's old mountain bike. You can see a photo of it at the bottom of this post.
If you're looking for a new family bike, or just want to see what other folks are doing, check out these shots I dug up from my archives…

The classic "train" assembly (not me in the photo). The drawback to this is the cumbersome length.
(File photo)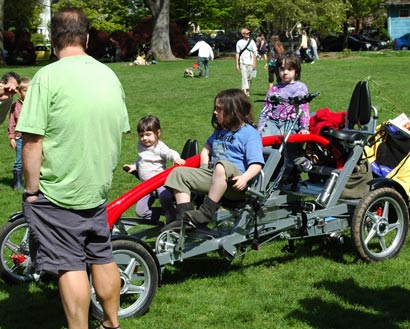 This wild machine is a ZEM. It's a four-wheeled, human powered sportscar (but I've heard it's not so sporty).
(File photo)
Bike Friday makes foldable tandems and triples.
(File photo)
The Folz Family are legendary for their bikey-ness. They've taken this set-up (sans trailer) on a journey through Laos and Cambodia. Here they're enjoying a bike move.
(File photo)
I really loved this option, but the cost was too much to handle and Juli felt small on it.
(File photo)
The ultimate solution? Perhaps. But we weren't ready to invest in one just yet.
(File photo)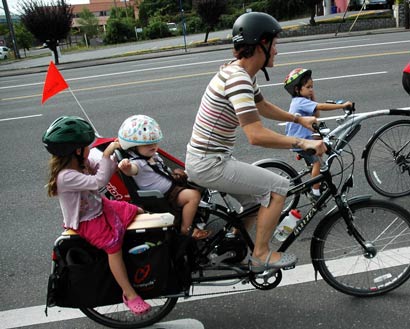 This is our current favorite option: an Xtracyle with a baby seat. It's relatively cheap (especially if we use an existing bike), lightweight, and Juli likes how it rides.
(File photo)
Does your family have a "family bike"? If so, what's your set-up?