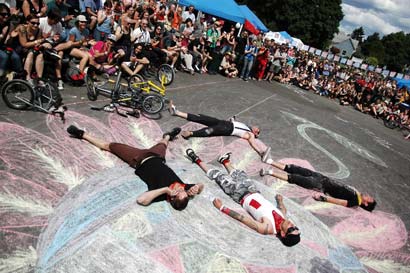 Visiting from Canada, the all-male Brakes thrilled a huge and appreciative crowd.
(File photo) –
View Gallery
– Slideshow Below

There could not be a more fitting end to Pedalpalooza than Saturday's Multnomah County Bike Fair (MCBF). After 17 days of pure bike fun, the community came together for a day packed with zany competitions (unicycle jousting anyone?), bike dance troupe performances, and colorful characters.
Hundreds of bicycles filled the park. The bleachers were packed with smiling hoardes. It was a day to remember. My only wish was that it didn't end so soon.
I spent most of the day in the middle of the action. From the many competitions to four (yes four) bike dance troupe performances, I got skinned up and tired out just from taking pictures (1124 of them).
Our beloved Sprockettes celebrated their fifth third anniversary and broke ground with new performances that included chariots, fire, a rotating platform stage, and a host of dramatic and skillful moves. The ladies in pink sure have come a long way in five years.
But this was MCBF and one bike dance troupe, no matter how spectacular, was simply not enough. We were also treated to the three troupes from Canada: the all-male Brakes; The Velo Vixens; and the B.C:Clettes. Each group brought their own distinct style and creative energy to the asphalt stage.
Other highlights included the debut of a "Bud Clark is my Mayor" sticker, and of course there was plenty of jousting action. Mini-bikes, unicycles, tall-bikes, and freak bikes all got a chance to display their worthiness on the jousting stage.
Some came away victorious. Others were not so lucky.
Toward the end of the day, the silliness edged up a notch when one unidentified participant stripped naked, jumped on a bakfiets, grabbed a lance, and kicked off naked jousting! I think it's safe to say that this was the world's first Naked Bakfiets Joust!
I whittled down all my shots to bring you a slideshow of 128 images. Check them out on my Flickr gallery.
Three cheers for Shift and all the volunteers who made this such a great event.
Contact Jonathan at @jonathan_maus on Twitter, via email at maus.jonathan@gmail.com, or phone/text at 503-706-8804. Also, if you read and appreciate this site, please become a supporter.