Tuesday, October 29th, 2013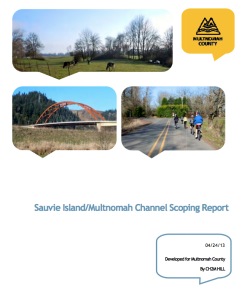 Multnomah County is updating two plans that govern Sauvie Island and not surprisingly, bicycling and road safety have played key roles in the initial conversations. After garnering public feedback last spring, the County has put together a 'Scoping Report.' That report (PDF) was a central piece of the agenda at a meeting of the Sauvie Island/Multnomah Channel Community Advisory Committee that met for the first time last week.
This public process will update the Sauvie Island/Multnomah Channel Rural Area Plan and the Multnomah County Transportation System Plan, which will "inform area policies, zoning code updates and transportation improvements for a 20-plus-year planning horizon." The current plans have not been updated for 16 years.
During the public outreach process to develop the scoping report, Multnomah County heard loud and clear that bicycling and road safety issues need to be addressed. In the section of the report labeled "Transportation Visions", two items are listed: "Reduce Traffic conflicts between modes," and "Provide for safe roads/facilities for all users." (more...)