Posted by Jonathan Maus (Publisher/Editor) on August 15th, 2014 at 11:07 am
Discover the hidden bike path gems of southern Clark County Washington at the Portland Century on Saturday).
(Photo J. Maus/BikePortland)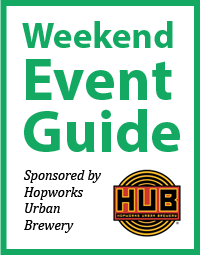 Welcome to your menu of weekend rides and events, lovingly brought to you by our friends at Hopworks Urban Brewery.
How's your summer riding been going so far? Are you ready for a century ride — or as our friends at OR Bike like to say, a "Hundo"?
Hopefully you've done a bit of training because the Portland Century is our marquee event of the weekend. While most of the route isn't actually in Portland this year, the support and food and drinks you'll encounter at the rest stops and the finish line party will be decidedly local.
There's nothing but warm and sunny blue skies in the forecast. Enjoy!
Saturday, August 16th
Dew Tour – All Weekend downtown on SW Broadway between Jefferson and Salmon
This event will feature some cool BMX action. The best riders in the world will show off their skills in "streetstyle" and dirt jump competitions. And the best part is the whole thing is free to watch! If you're not a BMX fan, consider this a great chance to hang out on a carfree SW Broadway! More info here.

[more...]