Posted by Michael Andersen (News Editor) on October 16th, 2014 at 1:37 pm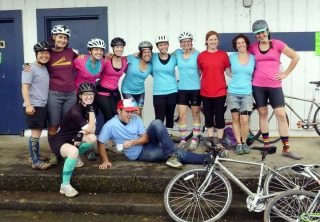 The CX Curious crowd at Saturday's Cross
Crusade opener at Alpenrose Dairy included
Noel Mickelberry, Kyla Yeoman, Lindsay Walker,
Katie Popoff, Kathy Lombardi, Claudia Martinez, Melia
Tichenor, Nate Semm, Julia Himmelstein and Allan Rudwick.
(Photos courtesy
Gladys Bikes
)
Gladys Bikes, the woman-centric bike shop on Northeast Alberta Street, keeps coming up with interesting new projects that prove how important great retailers are to a city's bike infrastructure.
The latest we've caught wind of: A series of low-cost courses for people who identify as "'cross curious." As in cyclocross, of course.
"It was an idea that came from our advisory board – GAB, the Gladys Advisory Board," Gladys Bikes owner Leah Benson said in an interview Thursday. "The more conversations we had, the more we realized a lot of people were interested but had never tried it."
[more...]