Posted by Michael Andersen (News Editor) on February 24th, 2014 at 3:01 pm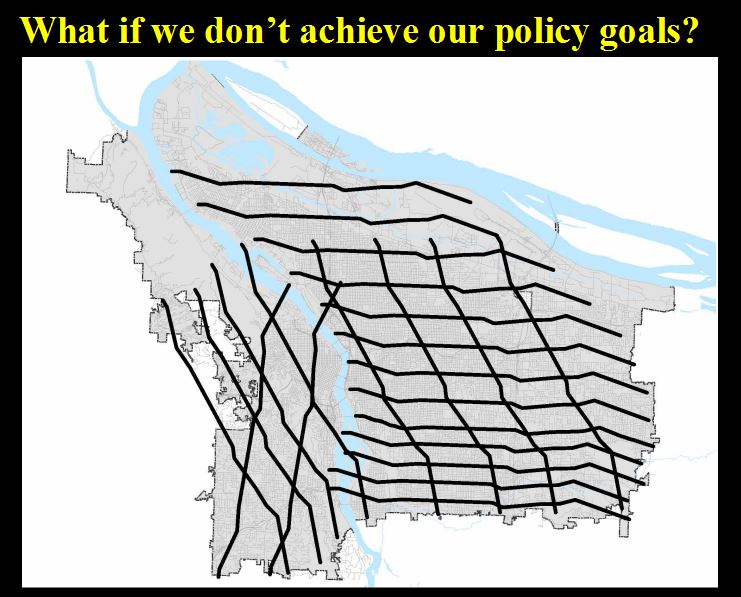 If it doesn't reduce the use of cars for short trips, the Portland of 2035 will need room for the equivalent of 23 more Powell Boulevards.
(Graphic by Roger Geller, Portland Bureau of Transportation)
Roger Geller, one of the most respected bicycle professionals in North America, was not having a terrific afternoon. His baritone had slid up to a tenor.
"This is beneficial," he said to the roomful of owners of retail businesses along 28th Avenue near Burnside, gathered at Coalition Brewing Wednesday afternoon. "This is a good thing for your business district."
Portland's bicycle coordinator for the last 14 years — a confident and amiable man, but always known more for his groundbreaking analyses and head for numbers than for a silver tongue — was pitching the benefits of replacing auto parking on one side of the street (including a couple blocks in each direction, it's maybe one-eighth of the district's auto parking) with a buffered bike lane. Geller made one argument after another as to why there was no reason to think the district would suffer. But for each fact he cited, someone had an immediate rebuttal.
"Those parking spots are dear," one man at the bar said, to wide agreement. "The very limited parking that remains in this district is really being stressed."
"Is it the City of Portland's job to reduce people's use of their cars?" one woman asked. Geller didn't answer directly.
But in response to a different question about future traffic patterns, Geller flipped to a new page in his presentation and showed his audience a map that, for a moment, seemed to leave them quiet.
It was a picture, he explained, capturing what Portland would need to look like if it doesn't decrease the likelihood that people use cars for their errands and commutes.
Email This Post