Posted by Michael Andersen (News Editor) on January 9th, 2014 at 9:49 am
Here's an interesting and persuasive idea that could turn Northwest Johnson into the most pleasant crossing of Interstate 405 between Northwest Portland and downtown.
It comes from reader Sean Pliska, who writes that until about a month ago, he "lived in NW for a couple years and used Johnson regularly." The key idea of his plan is to made auto traffic one-way on Johnson between Northwest 13th and 17th Avenues … in alternating directions.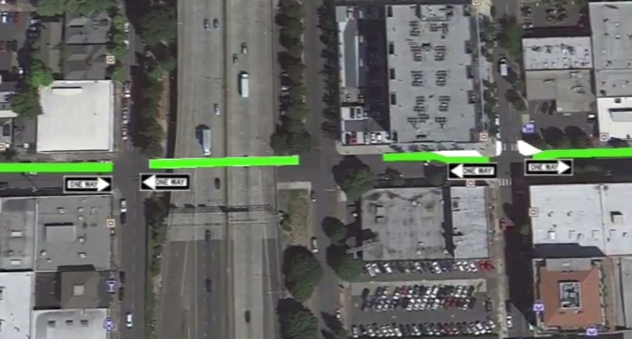 Opposing directions of one-way auto traffic would preserve access while diverting traffic to Glisan, Everett, Lovejoy and Northrup, Pliska says. The green stripe is a two-way bike track.
(Image: Pliska via YouTube)
Here's Pliska's description of his plan, as narrated in the video above:
Northwest Johnson has the potential to be a pedestrian-friendly, multimodal, livable street. It's planned as a bike boulevard, and currently has no dedicated bike facilities.

Since Johnson's unbroken through northwest and has access to I-405, it's often used as a through street for auto traffic. Cross traffic at 14th and 16th often wait a long time and cross quickly. One solution to this problem would be to change the direction of traffic and add a two-way bike track.
Email This Post