Posted by Michael Andersen (News Editor) on December 17th, 2013 at 2:35 pm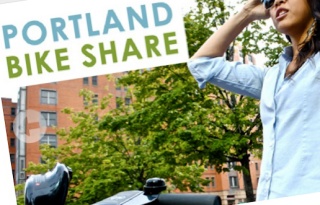 Screen grab from Portland Bike Share website.
After a year-long hunt for private sponsors that left many doubting whether it was possible, Alta Bicycle Share and the City of Portland have lined up agreements that will bring a publicly funded bicycle sharing system to Portland.
"Bike share private sponsorships are secured and available before the initial system launch in 2014," the city wrote in a state grant application dated Nov. 21 (PDF).
It's not yet clear who the sponsor or sponsors might be, or what their terms with the city might be. And no contract has been signed — nor is one certain to be before the formal announcement, which city officials said might be made in a matter of weeks. Reached by phone, Portland Active Transportation Division Manager Dan Bower said he couldn't expand on the details beyond what was in the grant application.
"The things that were in the grant application, we stand behind," Bower said.
Email This Post