Posted by Michael Andersen (News Editor) on August 19th, 2013 at 6:58 am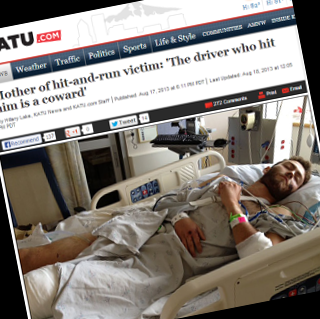 Henry Schmidt was recovering at OHSU Saturday.
(Image:
KATU.com
)
A Lewis & Clark student is recovering from traumatic injuries after being hit by a vehicle that left the scene of a collision on Southwest Barbur Boulevard early Friday morning.
Henry Schmidt, 20, had been biking home after working a late shift at Pok Pok restaurant, and either walking or riding his bike south. The driver, who remains unidentified, lacerated Schimidt's spleen and broke his clavicle, cheekbone, three vertebrae, and his left leg in three places, according to The Oregonian. Doctors dug glass out of Schmidt's face and mouth; his backpack and clothes were shredded from the impact, according to KATU.
Around 1 a.m., a TriMet bus driver saw Schmidt's body and stopped to help. One passenger found Schmidt's cell phone and notified his parents by calling the number labeled "Dad."
This collision is awful news and we can only hope that people with knowledge of the incident have the decency to contact the police. But a driver's choice to illegally leave the wounded man to his fate late at night is not the only factor in this crash. It happened on a stretch of road that the Oregon Department of Transportation has been refusing to consider promptly changing, despite numerous warnings that it is needlessly dangerous.
Still from a recent video shows merged
traffic patterns on Barbur Boulevard.
Image:
Friends of Barbur
.
Though the details and exact location of this collision weren't clear as of Sunday night, KATU reported that the collision occurred at the edge of a bridge where, as the volunteer activist group Friends of Barbur showed our readers in a post just last week, Barbur's bike lanes disappear, forcing bikes to merge with other traffic.
Barbur is designated as a major bike route in the Portland Bike Plan because it's one of the few connections between southwest Portland and the rest of the city.
Schmidt was hit near the intersection of Barbur with Capitol Highway. It's not yet
clear whether merged traffic across the Newbury Bridge was related to the collision.
(Image: ODOT.)
Friends of Barbur calls these two bridges, which are already due to receive road work by ODOT, an obvious place to improve the street. In June, the Bicycle Transportation Alliance made an upgraded Barbur one of its top 16 regional priorities. Even the City of Portland's bike coordinator made the unusual offer, back in January, to design a possible restriping of Barbur, in exchange for just $2,000 to cover the staff time.
ODOT has proposed flashier signage but declined to redesign the street, saying it's waiting for the subject to be resolved by the ongoing Southwest Corridor planning process. This process is expected to wrap up by the mid-2020s at the soonest.
Email This Post