Posted by Michael Andersen (News Editor) on August 5th, 2013 at 10:39 am
As the Portland region's freeway planners lick their wounds over the death of the Columbia River Crossing, one of the region's longstanding anti-freeway warriors is seizing the moment of quiet to push a new plan that he says would be far less expensive.
Jim Howell, a longtime citizen activist and former TriMet bus planner who helped lead opposition to both the Mount Hood Freeway and the Columbia River Crossing, has an out-of-the-box idea:
Scrap most of the highway enlargements that were part of the Columbia River Crossing.
Build a new eight-lane highway bridge immediately upstream of the current Interstate Bridge.
Repurpose the Interstate Bridge as a two-lane local street, a light rail crossing and a pair of dedicated cycle tracks.
Interesting? You bet. Howell, the volunteer strategic planning director for the Association of Oregon Rail and Transit Advocates, says the whole thing would cost $1 billion, compared to the Columbia River Crossing plan's $3.1 to $3.5 billion.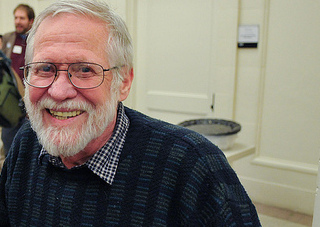 Transportation idea man Jim Howell.
Howell calls his idea the "Common Sense Alternative II," since it builds on the Common Sense Alternative that CRC opponents have touted for years as a cheaper way to improve connections across the river. The main difference between the "CSA I" and "CSA II" is the idea of keeping the existing bridge (which actually consists of two separate spans, one northbound and one southbound) in service, but not as a freeway. Here's how the space on the bridges might be allocated:
Another key difference: instead of running light rail through downtown Vancouver, this plan would end the Yellow Line south of downtown, where the city has been hoping to develop a new waterfront residential district. From there, rail passengers could connect to Clark County's C-Tran buses:
Here's what Hayden Island, much of which would have been bulldozed to build a massive highway interchange, might look like under Howell's proposal: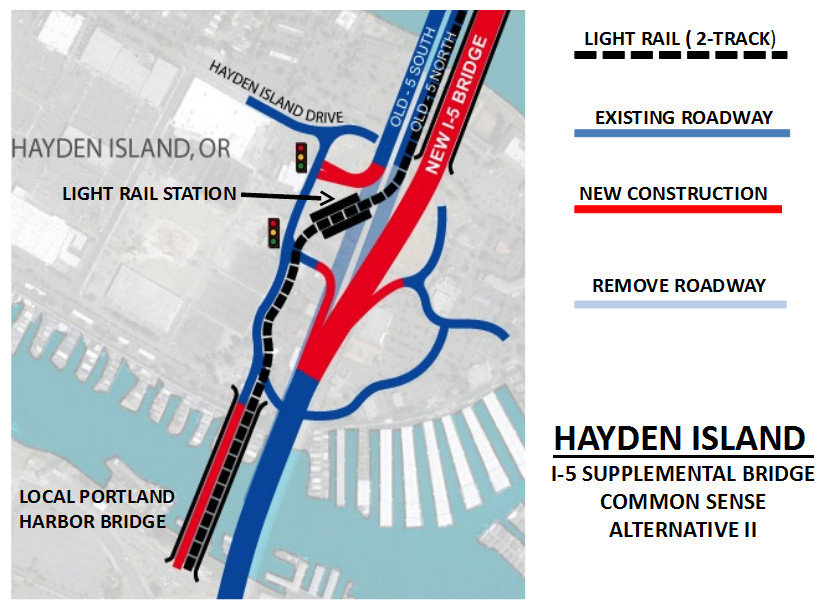 "To me it's ridiculous to have a community whose only access is the interstate freeway," Howell said. "You cannot get to the Hayden Island, which is a Portland neighborhood, without getting on the interstate freeway. That's a problem that has to be solved. And you solve it with a local bridge or, in this case, by repurposing a freeway bridge."
Email This Post