Posted by Michael Andersen (News Editor) on May 31st, 2013 at 3:23 pm
Daimler Trucks engineer Curtis
Crothers, who suffered extensive
injuries from a crash on
Interstate Avenue Wednesday.
An engineer biking home from his job on Swan Island was severely injured by colliding with a pickup truck after its driver allegedly made an illegal 135-degree turn onto Greeley Avenue Wednesday afternoon.
Curtis Crothers, 53, was in good condition at Legacy Emanuel hospital Friday after suffering eight broken ribs, a broken scapula, a punctured lung, internal bleeding, a dislocated shoulder and 24 hours in intensive care.
Crothers is a regular bike commuter to Daimler Trucks North America, which employs 3,000 workers in the North Portland industrial park. The bike commuting route to Swan Island has been subject to controversy; many of the area's hundreds of bike commuters avoid the area where Crothers was hit by illegally using the Ash Grove Cement Road, a private path owned by Union Pacific Railroad.
Crothers, however, had stopped using the Cement Road after concluding it was itself unsafe due to train tracks that curve across it and after a run-in with railroad security.
"He was busted some months ago by Union Pacific police," Swan Island TMA Director Sarah Angell, a transportation advocate and friend of Crothers, said Friday. "So he laid off of it."
Crothers said he was injured at about 5 p.m. Wednesday after the driver of a pickup truck, headed southeast on Interstate Avenue, made an illegal right turn into the northbound lane of Greeley. Crothers, who was riding southeast in Interstate Avenue's downhill bike lane, collided with the side of the pickup as it turned.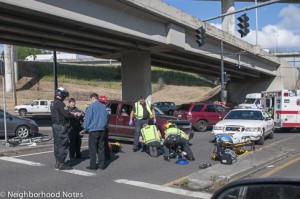 The aftermath of a crash that injured Curtis Crothers.
(Photo by Ken Aaron of
Neighborhood Notes
.)
"I hit it doing maybe 35 mph," Crothers said. "As far as I know, I didn't a mirror, I didn't hit glass and I didn't hit a door handle."
In 2007, Brett Jarolimek was killed at the same intersection after his bicycle collided with a right-turning truck. After that crash, the city installed a concrete barrier and prohibited right turns from Interstate onto Greeley in an attempt to block right turns such as the one that injured Crothers.
Portland police haven't yet responded to a Wednesday night request for information about the latest crash.
Email This Post