Posted by Jonathan Maus (Publisher/Editor) on January 5th, 2011 at 12:56 pm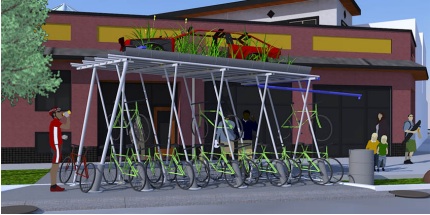 Artist Buster Simpson's rendering of covered bike rack and green street features. See more at
BusterSimpson.net/Dekum

Remember the artistic bike corral project we highlighted back in November? The design raised a few eyebrows and many of you hoped for a chance to formally weigh in on the project. Well, here's your opportunity...
The City of Portland Bureau of Environmental Services (BES) has announced an informational meeting on January 18th. At the meeting, you'll be able to learn more about the plans for a covered bike rack at the corner of Durham and Dekum Streets and about the green street elements the rack and the surrounding sidewalk will include. The artists who are designing the bike parking structure will be in attendance to hear your questions and feedback.
(Graphic: BES)
The project is a collaboration between BES, the Bureau of Transportation's bike parking team and the Regional Arts and Culture Council. The meeting (1/18) will start at 7:00 pm at the Classic Foods gallery space (817 NE Madrona Street). More information here.
Email This Post
Possibly related posts