by Jonathan Maus (Publisher/Editor) on June 5th, 2012 at 12:52 pm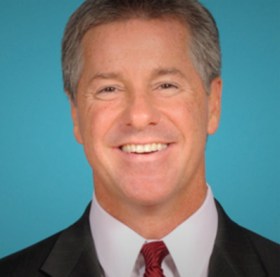 Our bike lanes welcome you Mr. Olshey.
[Publisher's Note: Turns out that this "bike lanes" thing, as reported by ESPN's John Hollinger, is part of an ongoing joke he plays with his readers about Portland. See end of post for full update/explanation. — Jonathan]
The Portland Trail Blazers announced today that, after nearly one year without one, they've named Neil Olshey as their General Manager. The move seems to be something of a coup for the Blazers, as he comes to Portland from the Los Angeles Clippers, a team that has made a dramatic turnaround from laughingstock of the NBA to legit playoff contender.
At this point, you're probably wondering why I'm sharing this news on BikePortland. Well, as many of you know from our Bike to Blazers events (which come to think of it, we should fire back up this coming season), I love basketball. Even if you don't care about the Blazers, as an urban transportation activist and citizen of Portland, you should appreciate that the team has a significant impact on our city in many ways.
But even just naming a new GM obviously isn't Front Page worthy on this blog… So, the reason I'm sharing it is because it seems Mr. Olshey is something of a bike fan.[Read more…]