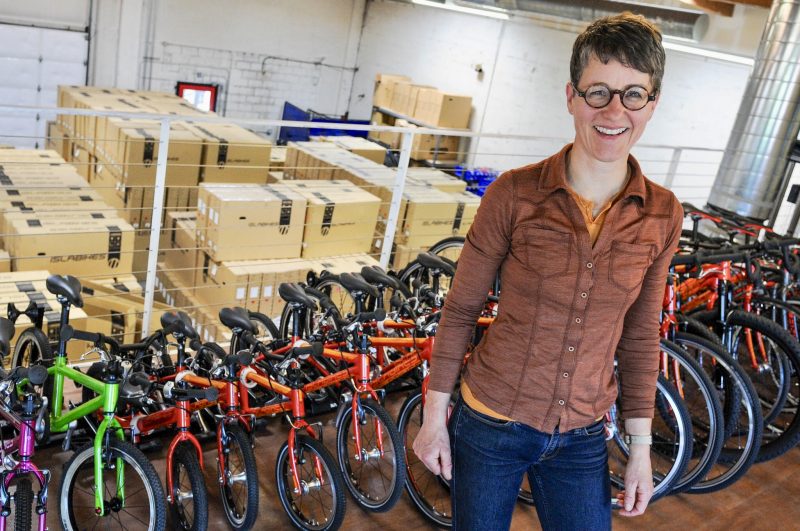 "Shops are typically run by conservative, not that young — and dare I say male — shop owners in the industry. That would be the profile who just thought I was mad. So I wouldn't have persuaded them to buy anything from me."
— Isla Rowntree on why she decided to sell customer-direct
You've probably seen them: Young kids zipping around on great-looking (usually red) bikes with the Islabikes name on the downtube. Isla Rowntree is the woman behind this business. She founded the company in 2005 in the picturesque town of Ludlow in the United Kingdom, about 155 miles northwest of London. In 2013 Islabikes came to North America and planted their headquarters in Portland's Hosford-Abernethy neighborhood.
Last summer Rowntree paid a visit to her bustling U.S. outpost and I met up with her for a chat. We sat in the upper floor of their warehouse and showroom on SE 7th Avenue and she shared a brief history of children's bikes, her passion for making good ones, the challenges she faced as a start-up, and how Islabikes almost never ended up in Portland.
The Q & A is below, edited slightly for clarity (for full effect, read her words in a proper British accent)…
I was intrigued to learn you started a children's bike company, but that children weren't your inspiration?
"No. It wasn't through my own children. I've been in the bike industry pretty much all my working life. I started in a bike shop when I was still in school and experienced my own personal challenges with fit and ergonomics because I'm fairly physically small. I came up with some solutions for those challenges and tinkered about with them throughout my twenties. Then, 11 or 12 years ago, I got to an age when my friends — and my sister in particular — had started families. They were all asking me what bikes to get for their kids. And that really drew my attention to the details of children's bikes as they were available at the time. I was expecting to make a recommendation, do a bit of research and say, "OK get this one for your child." But they were all so awful.