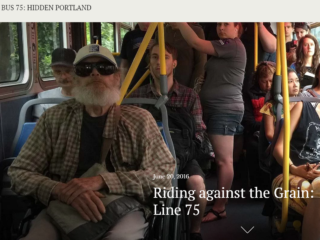 We don't often publish transit-only posts, but we'll make an exception for this one.
Portland-based photographer Geoffrey Hiller is working on an all-year project to document the life of Portland through the lens of a single bus line: the No. 75 that runs between Milwaukie and St. Johns via Chavez, 42nd and Lombard.
For a post yesterday, he recruited Portland-based transit consultant and writer Jarrett Walker (who happened to be a teenage intern at TriMet in the 1980s, when the 75 bus was created) to write about the ways the 75 reveals this moment in Portland's ebbing, flowing life.
The result is a short illustrated essay that is, somehow, both about our city and about good public transit network design. It's something to behold: