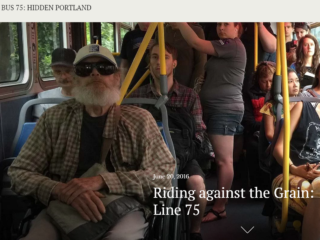 We don't often publish transit-only posts, but we'll make an exception for this one.
Portland-based photographer Geoffrey Hiller is working on an all-year project to document the life of Portland through the lens of a single bus line: the No. 75 that runs between Milwaukie and St. Johns via Chavez, 42nd and Lombard.
For a post yesterday, he recruited Portland-based transit consultant and writer Jarrett Walker (who happened to be a teenage intern at TriMet in the 1980s, when the 75 bus was created) to write about the ways the 75 reveals this moment in Portland's ebbing, flowing life.
The result is a short illustrated essay that is, somehow, both about our city and about good public transit network design. It's something to behold:
Distance from the center has always been a statement about power, even if its significance has flipped every 50 years. In the 1960s, when power and wealth were fleeing the city, a five-digit house number meant you were remote and secure, while the historic inner city (except for a few enclaves) meant abandonment and crime. But the 2010s are more like the 1910s. A century ago, confident money built the fine Victorian and Craftsman homes of the inner city. Today, again, money rushes inward, pricing the inner city out of the reach of the artists and working people (including my own parents) who made it so interesting fifty years ago.

The marks of this pulsing oscillation are brutally obvious if you go inward or outward, but if you follow an orbital path, as the 75 does, you encounter more subtlety. History and power flow across the 75 more than along it, but as they do they surge and eddy in fractal patterns, even as a few rocks standing firm against their current.
It's short. It mentions the Springwater Trail at one point. Just read it.
— Michael Andersen, (503) 333-7824 – michael@bikeportland.org
Our work is supported by subscribers. Please become one today.