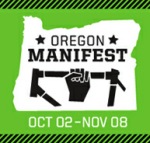 The Oregon Manifest is right around the corner!
Organizers have unveiled the final program for this year's six-week long celebration of the art, culture, and craft of bicycling. The multifaceted program promises to put a creative, utilitarian spin on all aspects of bicycling from framebuilding to racing — and aims to put them in front of a broad audience by tying them into the realm of everyday, transportational cycling.
The three day long 2008 Manifest was a major event that grasped at the gestalt of Portland's cycling revolution, bringing together high-end framebuilders and freakbike welders with racing teams, all stripes of bicycle industry, and some of the zanier sides of local cycling culture.