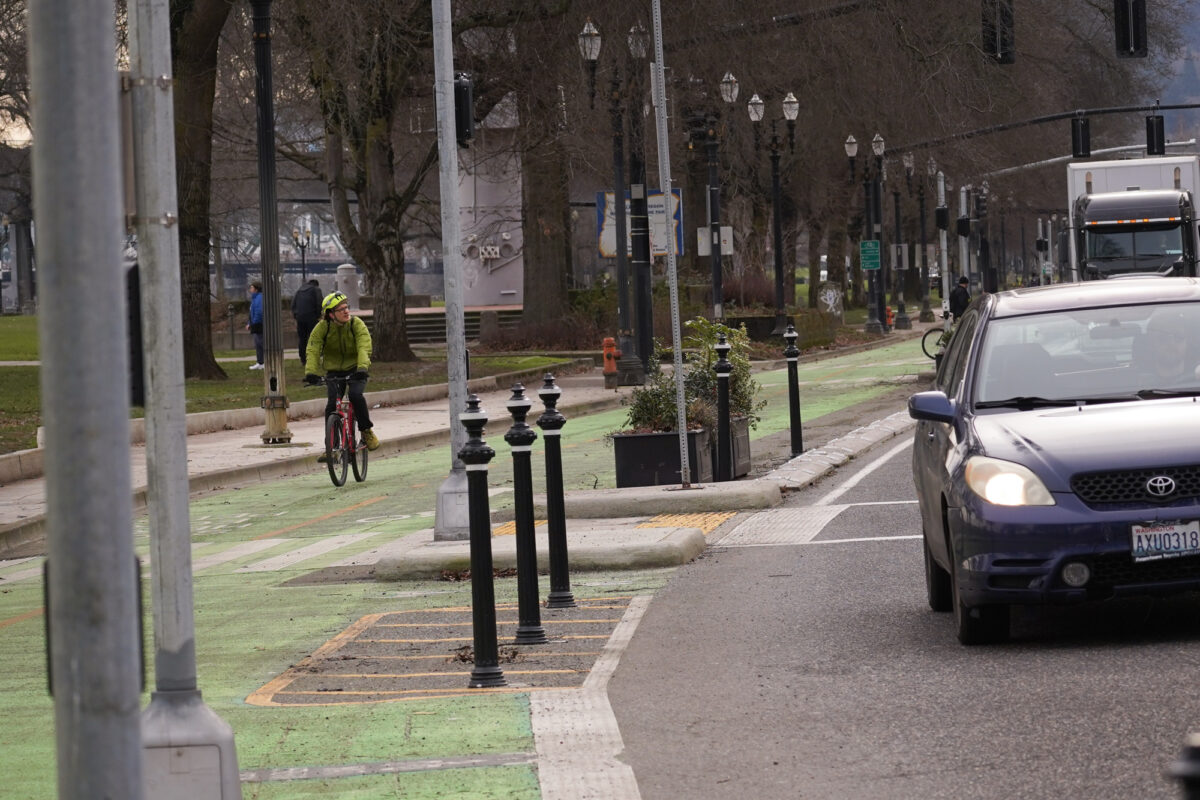 Last week, People for Bikes, the largest and most influential bicycle advocacy organization in America, named Naito Parkway as one of the best new bike lanes in the country. I don't usually pay attention to "best of" lists, but something about that recognition felt different. And it felt like something that deserved more attention than a quick churn of the news cycle.
The protected bike lanes on Naito Parkway — which opened in May 2022 and are known affectionately as "Better Naito" — aren't just among the best bike lanes in the city from an engineering perspective, they also represent the best of Portland more broadly in ways that transcend a typical infrastructure project.
In the past week or so I've been wondering: What makes Better Naito so great?
From an engineering perspective
To refresh, Better Naito is a two-way protected bikeway on the east side of Naito Parkway, a major street that runs along Portland's waterfront. The project replaced a stressful and dangerous, 1990s paint-only bike lane.
Protection: I know some folks wanted even more width for the bikeway, but it's relatively wide and offers a solid sense of protection from car and truck users. The width of the biking space is 14-feet curb-to-curb (at minimum, some sections are wider), and when combined with the concrete curb and other traffic separators, it feels plenty wide and comfortable for most riders. On the flipside, drivers have much less room to operate, and their behavior reflects that. In my experience, drivers have slowed way down and are pretty chill as they navigate next to the bikeway. The design is also strong enough to communicate to drivers that they aren't allowed in the space.
Length, location and connections: At about 1.2 miles long, the bikeway runs from just south of the Steel Bridge to SW Lincoln. This length means it connects to many other bikeways. Better Naito makes it easy to hop onto SW Oak, NW Couch, the Hawthorne Bridge, or the cool little shortcut to SW Main we highlighted yesterday. The value of Better Naito also goes up because of where it is. Portland's first real separated bikeway was built on NE Cully Blvd in 2011. It's nice, but it was put there because of bureaucratic serendipity (PBOT did a full road rebuild and had a clean slate to work with) and not because there was a lot of cycling demand or other bike network connections in the area. Like too much of PBOT's best work, it was an inaccessible oasis. Naito on the other hand is in a well-connected, high-demand, and high-profile location on one of Portland's marquee streets (recall that the Portland Business Alliance opposed the project).
Signals: An unsung hero of Better Naito (and many other bikeways citywide) are smart, bike-friendly signals installed by PBOT. The signals are programmed to detect the presence of bicycle riders and they show a level of respect and seriousness that takes the Naito bike lanes from good to great.
For walkers too: Better Naito also came with a new, 8-foot sidewalk to give walkers a space of their own. There are also several signalized crossings with large median refuge islands where walkers can safely wait to cross.
From a cultural perspective
The origin story of Better Naito matters almost as much as its ultimate success.
In the words of Timur Ender, a former PBOT staffer and volunteer activist with Better Block PDX who helped bring it to life, "Better Naito is a success story on a number of fronts: it's a success story of accessible government, tactical urbanism as a way of urban planning, partnerships, data, and imagination." In a BikePortland comment Ender shared after the ribbon was cut last spring, he shared that the idea for Better Naito wasn't even on PBOT's radar until 2015. That's when the festival season on Waterfront Park began and we helped document the urgent need for more space for walkers and bikers during these events. PBOT responded with a creative permit to handle the event loading zone that led to a de facto, 24-hour lane open only for loading, walking, and biking during the two-week Rose Festival.
PBOT's partnership with festival organizers and nonprofit tactical urbanism group Better Block PDX led to the most ambitious and consequential transportation pilot project the city has ever seen. "This was very much a leap of faith and there were a number of things we didn't know until we did it," is how Ender described the early days of the project. "Better Naito was also a success in bridging the connection between grassroots tactical urbanism and the halls of power in city government."
In the end, the magic sauce of dedicated activists and city staffers willing to compromise and work together, led to something very special: A $15,000 pilot project done with traffic cones and plywood that led to over $15 million in infrastructure and several awards for the people for the people who made it happen.
But don't take my word for it! Here's what a few Portlanders think about it…
Andy Kutansky, a transportation engineer who works and rides in Portland:
"As a bike rider it is satisfying to see a super low-stress, two-way bike facility come to life. We don't always say it explicitly, but what makes these facilities great is the ability to interact with our community; we can take both lanes and ride three abreast or interact with the riders going the opposite direction. I love how all the green paint on the cover image makes the facility really stand out, and its clear even from several hundred feet up that separated, all ages and abilities facilities are what the people want, and are here to stay.

From an engineering perspective I'd like to shine a light on the impact these types of projects can have for the price. This project, designed and constructed for under $4 million, can be a blueprint for thousands of other communities who want to reallocate public space for all users. All it takes is a little determination."
Chris Thomas:
The lack of cross traffic makes it a much more enjoyable ride. No threat of a car running a stop sign/light and cutting you off.
Brendan Tschuy:
Better Naito gives a chance to relax and unwind on rides to work every morning. Few places in Portland provide that.