(Photos: Jonathan Maus/BikePortland)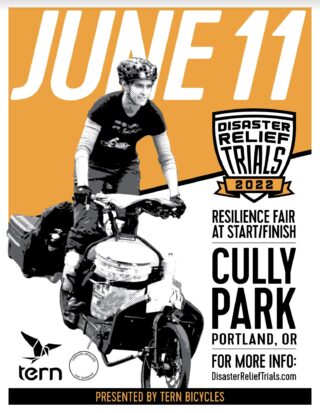 10 years after the first Disaster Relief Trials, organizers have announced the 2022 edition.
"Imagine this," reads a press release, "It's four days after the big earthquake… roads are broken, fuel is unavailable, but your family and neighbors need supplies. Think you are out of options? Think again! Use your cargo bike!" The aim of the event is to twofold: Show people how capable bicycles can be as disaster response vehicles and teach people how to use their bike to help their neighbors recover.
DRT was held every year between 2012 and 2016. The 2022 event, which has earned title sponsorship from Tern Bicycles, will be held on June 11th at Cully Park in northeast Portland. According to co-organizer Mike Cobb, this year's event will focus less on competition and more on competence.

This year's event will be set up as a friendly challenge among cargo bike captains. Those who take part will do a self-supported supply run that will consist of carrying up to 110 pounds of cargo (food, building materials, water, and so on) while navigating a route with seven checkpoints throughout Portland. Each checkpoint will test the mettle of responders by putting barriers and challenging terrain between them and the signature they need to pass the checkpoint.
Each participant will receive a map of the checkpoints and description of the mission one hour before a mass "Le Mans" style start. Cully Park will be full of action and will include a Resilience Fair. At the fair you can learn more about disaster response and preparedness from event partners like the Portland Bureau of Emergency Management, amateur radio experts, Neighborhood Emergency Response Team volunteers, and so on.
Since 2012, Portland's DRT has inspired similar events in other cities including: Arlington, Virginia; Bend and Eugene, Oregon; and Tsukuba, Japan.
As part of their sponsorship, Tern will sponsor two riders from the community to do the event on one of their cargo bikes. Stay tuned to BikePortland for details on how to apply or nominate someone!
Registration for the event will open soon. You can stay updated and find out more at DisasterReliefTrials.com, on Facebook, Instagram, or email organizers at disasterrelieftrials@gmail.com.