(Photos from last night's vigil by Jonathan Maus/BikePortland)
Friends, family, and many people who never knew Jean Gerich gathered to remember her Tuesday night. The 77-year-old Gerich was killed Monday in the intentional vehicular assault in southeast Portland that left at least nine other people injured.
"When something like this happens, it diminishes the entire community."
— member of Jean Gerich's family
A few dozen people turned out amid rain and light snow. They held candles and placed flowers around a photograph of Gerich while huddled under a shelter on the playground of Buckman Elementary School on Southeast Stark, just a few hundred yards from where the tragedy unfolded.
Calley Eckberg organized the event. She lives nearby and was out on a walk Monday and came upon the aftermath. Eckberg said she was spurred by a mix of emotions to take action. "Just seeing what happened yesterday has really impacted me," she shared with the crowd. "I spent a lot of today thinking about my emotions. I'm choking up right now; but really I'm angry. I'm really frustrated. I think the randomness is something I have not and maybe will never quite come to terms with… And I'm really hurt for all the people that witnessed something that no one ever needs to witness."
Another woman who I met at the memorial for Gerich on the corner of SE Stark and 19th, and who was accompanied by Gerich's ex-husband, said the incident has "torn up" the family. "When something like this happens," the woman shared. "It diminishes the entire community. People put one more layer up in front of themselves and the rest of the world. I personally won't ever stand on a street corner again. It's just terrible."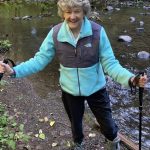 Gerich, a 48-year Portland resident, lived at the Holladay Park Plaza retirement community. Several people who knew her told me she was very active. In a statement, her family said she enjoyed hikes in Forest Park and was excited to have just received her first Covid-19 vaccination shot last week because it meant she could, "Get out in the world again."
One couple who showed up last night played water volleyball with Gerich four times a week. Another woman said Gerich was recovering from an ankle injury. "Jean and I were walking together every week," the woman said. "She was coming back from breaking her ankle and her motivation was to get 3 or 4 miles in everyday. That's why she had walked over here."
This woman beat cancer five years ago. Then lived through a devastating pandemic; only be taken away from her family by a murderous man wielding a four-wheeled weapon.
Gerich had walked 1.3 miles south from her home at Holladay Park across the street from Lloyd Center to the Buckman neighborhood to receive a massage. She was standing on the corner of SE Stark and Washington when she was intentionally struck by 64-year-old Paul Rivas, an Oregon City resident who has been charged with murder, six counts of assault and other charges.
"She was a free spirit," one of her friends remembered. "She lived life bravely and with great courage. She had just walked out of a massage and was feeling good in her heart, body, mind and soul. She will be much missed."
"Seeing you all here tonight really re-unites my heart again. This is what we really need right now. For our community and our neighborhood to have a moment to heal."
— vigil attendee
At one point during the vigil, Eckberg asked everyone to turn and introduce themselves to their neighbor. I met a woman named Kristen who lives in the area and said the event has reminded her how important it is to support one another.
Eckberg said while she's frustrated and angry, she is buoyed by "a lot of beauty." "I'm so thankful and grateful for the individuals who helped corner the driver, and the outpouring of support from the community has been phenomenal."
Another woman who spoke up during the vigil echoed Eckberg's sentiments. "When I heard about it my heart broke into a million pieces. So seeing you all here tonight really re-unites my heart again. This is what we really need right now. For our community and our neighborhood to have a moment to heal."
— Jonathan Maus: (503) 706-8804, @jonathan_maus on Twitter and jonathan@bikeportland.org
— Get our headlines delivered to your inbox.
— Support this independent community media outlet with a one-time contribution or monthly subscription.