Senate Democrats learned what mayors are doing to combat climate change during the first meeting of their Special Committee on the Climate Crisis held today on Capitol Hill in Washington D.C. Portland Mayor Ted Wheeler was one of the five mayors invited to offer testimony and answer the Senators' questions.
Prior to his appearance, Mayor Wheeler tweeted that leaders like him are on the "frontlines of the climate crisis" and, "on the frontlines of climate action."

"Portland is working hard to make biking, walking and transit, the easiest fastest and most effective way to get around in our community."
When given the chance to present testimony (watch video below), Wheeler spoke for about seven minutes and framed his remarks around his view that climate change is, "the greatest threat we face in this generation." There were three main points in Wheeler's testimony: that green initiatives can make cities rich, that more action is needed, and that those actions must to be "people-centered".
It was in that second point that Wheeler went into depth on transportation issues. Reminding Senators of the International Panel on Climate Change (IPCC) report that says we have about 10 years to act to prevent irreversible damage. "We're out of time, and we know we need to take big, bold steps," Wheeler said.
Wheeler's prepared remarks submitted to the committee included the fact that despite Portland's green reputation, our emissions from the transportation sector are, "going in the wrong direction" and are up 8% from 1990 levels.
Then he went into specifics on how Portland is addressing that alarming trend:
"We're doubling down on ways to create more effective transit options. Portland is working hard to make biking, walking and transit, the easiest fastest and most effective way to get around in our community. We're also investing in transit-only lanes and other strategies to make our bus service faster, cleaner and more reliable with the overall goal of significantly increasing ridership. We need to more than double transit ridership between now and 2035 to meet our aggressive goal which is 25% transit mode share. It's an ambitious goal but our transportation commissioner our transportation bureau and our city planners have proven they are up to that challenge."
His printed testimony (which he didn't read verbatim) went into even greater detail about Portland's transportation plans. It included a spotlight on PBOT's Central City in Motion program which Wheeler said will roll out three major transit investments in the next 18 months and add 1.54 miles of bus-only lanes in the central city. "The Central City in Motion projects will also improve bicycle safety by adding dedicated, protected bike lanes in several central
city locations," the testimony reads.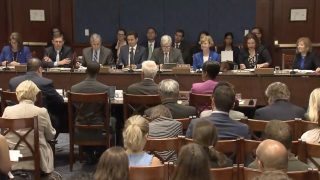 Another thing that caught my attention was when "bike lanes" found their way into Wheeler's remarks among a list of "technical solutions that will only get us so far" that also included solar panels, home insulation and electric buses. It's unclear why bike lanes, which we've been striping since the 1970s, would be considered a "technical solution."
After each mayor spoke, Senators asked them questions. Wheeler was asked by Senator Martin Heinrich (D-NM) to share one thing he's done particularly well in tackling the climate issue.
"I would argue that top-down, hierarchical leadership only gets you part of the way," Wheeler answered. Then he continued:
"In order to really be successful in achieving climate action goals it has to come to the community as well. I think of everything we've done from — zoning changes to the built environment, reducing our wastestream through recycling, our ban on single-use plastics, our 100% renewable energy pledge… the real leadership is coming from the community… Sometimes you really have to let the community take the lead. Then as leaders, we have to facilitate what comes next."
One major climate issue that the community has taken the lead on is that we shouldn't expand freeways to encourage more driving capacity in the central city. On that issue, Wheeler hasn't facilitated what the community wants. In fact, he supports an Oregon Department of Transportation project that will add several new lanes for driving on Interstate 5 through the Rose Quarter despite severe opposition from numerous community and environmental groups.
Notably, Wheeler's remarks did not include a mention of the freeway expansion or its "auxiliary lanes", even though ODOT says it will be a net positive for air quality and the environment.
Committee Chair Senator Brian Schatz (D-HI) said this was the first of what will be many hearings on the climate crisis. Learn more on the committee's website.
— Jonathan Maus: (503) 706-8804, @jonathan_maus on Twitter and jonathan@bikeportland.org
Never miss a story. Sign-up for the daily BP Headlines email.
BikePortland needs your support.