James Dubberly and his preferred modes of travel.
On June 11th Governor Kate Brown signed Senate Bill 810 into law, adding moped and motorcycle users to the definition of "vulnerable user of a public way." The idea of a vulnerable road user was first carved into Oregon law by bicycling advocates in 2007. It's an important distinction because it triggers more severe consequences for people who drive carelessly and cause injuries (or death) to the most vulnerable people on our roads.
With bodies exposed to traffic, people who use roads on two wheels — motorized or not — face similar threats and consequences.
This week I was contacted by organizers of an event that aims to raise awareness of road safety for motorcycle, bicycle and scooter riders. Inspiration for the event comes from the May 16th crash that left Portland resident James Dubberly with severe injuries. Dubberly was riding his motorcycle on Sandy Boulevard when someone in a car made a sudden and illegal u-turn from a parking spot right in front of him.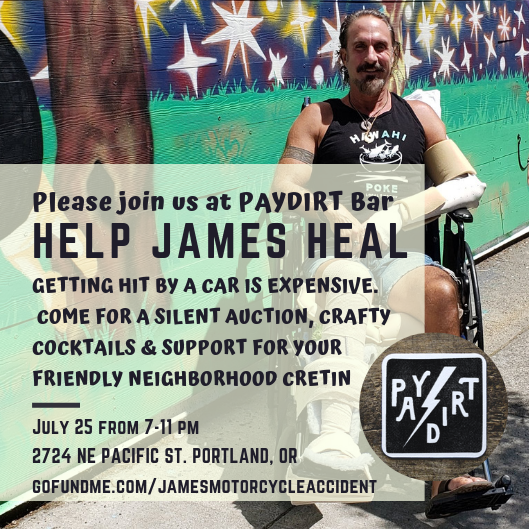 With multiple broken bones Dubberly likely won't walk for six months. If his rehab goes according to plan, he might ride a bicycle again by next spring. Yes, he also rides a bicycle. A friend of his shared with me via email that Dubberly has commuting by bike for over 30 years and has done Seattle-to-Portland several times.
Friends who know Dubberly from his fitness studio (he founded Whole Body Fitness in southeast Portland 13 years ago, but had to sell it to pay medical expenses) and from motorcycle riding have come together to help raise funds and support his recovery. "Help James Heal" is an event planned for July 25th at Paydirt (2724 NE Pacific St). It will be a chance to support Dubberly and make connections between motorcycle and bicycle riders.
It's also got me wondering: Should bicycling advocates work more closely with motorcycle advocates? In what specific ways could we find common cause and partner on road safety issues?
This is also an opportunity to remember that every life on the road is important — and that people not encased in steel boxes deserve extra attention. We must drive cars and design streets with these inherent vulnerabilities at the top of our minds.
— Jonathan Maus: (503) 706-8804, @jonathan_maus on Twitter and jonathan@bikeportland.org
Never miss a story. Sign-up for the daily BP Headlines email.
BikePortland needs your support.
Contact Jonathan at @jonathan_maus on Twitter, via email at maus.jonathan@gmail.com, or phone/text at 503-706-8804. Also, if you read and appreciate this site, please become a supporter.