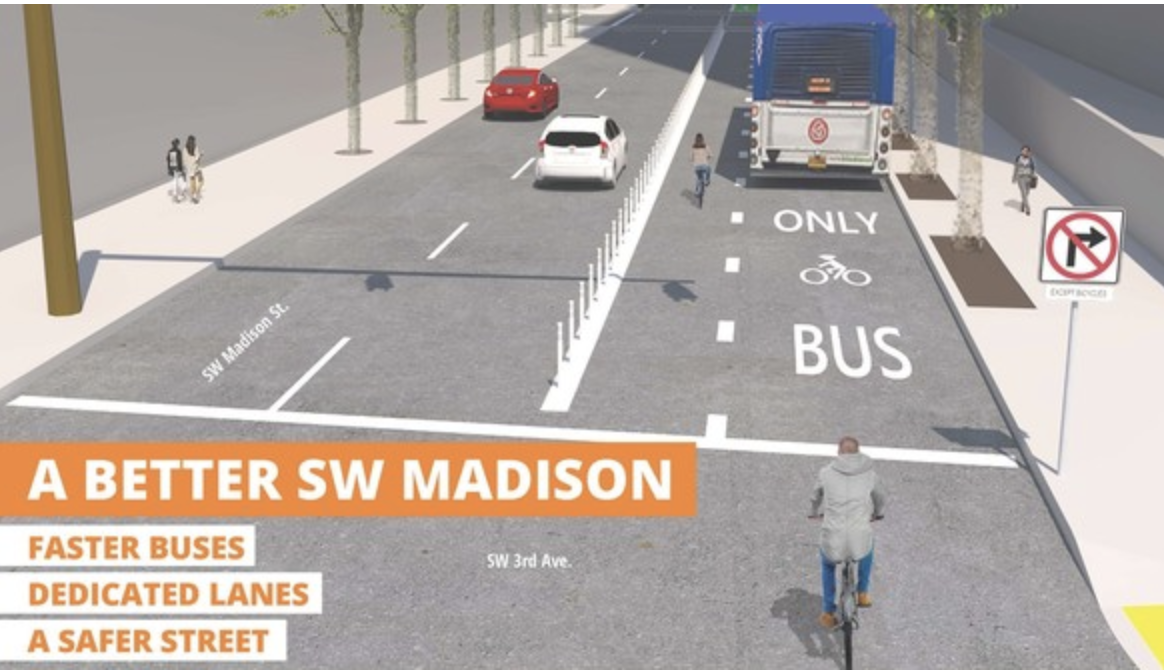 The Portland Bureau of Transportation announced the construction of its first Central City in Motion (CCIM) project today: SW Madison – one of the busiest bikeways in Portland — will get a dedicated bus operation and bicycling lane that will be separated from other traffic. The project aims to speed up bus trips, make it safer to ride a bike, and lower the the stress of drivers by giving them clear separation from other road users.

Portland City Council passed the CCIM plan back in November and this will be the first project from the plan to be implemented.
PBOT says the project should be completed over the weekend at a cost of just $160,000.
In addition to the new lane configuration, PBOT says the project includes, "a passing zone to help people on bikes bypass buses at stops and prohibits right turns onto SW 3rd Avenue to remove the risk of right hooks for people walking and biking."
(TriMet video)
That last part is a very big deal. Almost seven years ago today, 28-year-old Kathryn Rickson was bicycling down Madison when a truck operator turned right at SW 3rd. The two collided and Rickson was killed.
Another significant aspect of this project is that space for the new bus/bike only lane was made available because PBOT was able to use space currently used as on-street parking for Portland Police Bureau and other City of Portland vehicles.
Madison is not only a major bikeway, it handles more than 23,000 bus trips each day. Enhanced bus lanes are part of nine out of the 18 total CCIM projects.
When CCIM passed, there was broad skepticism about how long it would take to actually implement the projects. "We were serious when we promised a quick implementation of Central City in Motion," said Transportation Commissioner Chloe Eudaly in an official statement released by PBOT.
In their announcement today, PBOT included a quote from Business for a Better Portland Executive Director Ashley Henry. "While employment in the Central City continues to grow, our streets aren't getting any wider. This project is an excellent example of a rapid, thoughtful infrastructure improvement that can produce real benefits for area businesses by providing safer and more reliable trips through downtown for employees and customers."
It's notable that PBOT included a statement from BBPDX and not from the Portland Business Alliance.
This is great news! We are very excited to see progress and to see PBOT, Commissioner Eudaly, Portland Bus Lane project (a grassroots advocacy group that has worked on this project for years) and Business for a Better Portland come together and make this happen.
Onward!
—
Bonus: PBOT has also released details on the next two CCIM projects that will be built within 2019-2020: The Burnside Bus/Bike Lane Project and the NW Everett Bus Lane Project (which will be built this fall).
— Jonathan Maus: (503) 706-8804, @jonathan_maus on Twitter and jonathan@bikeportland.org
Never miss a story. Sign-up for the daily BP Headlines email.
BikePortland needs your support.