It's time for Portland to build more efficient streets downtown where walkers and bicycle riders can get around without fearing for their life. And to make it happen, we need to move forward with the Central City in Motion plan and more people need to stop driving cars.
That was the message newly-appointed Transportation Commissioner Chloe Eudaly shared at Thursday's city council hearing. Commissioner Eudaly made activist hearts flutter when she opened the meeting with a speech that set a strong tone that helped pass the plan with flying colors in a vote of 3-0 (two commissioners were absent). Eudaly's tone throughout was "Blumenauer-like" one source told me after the meeting, referring to U.S. Congressman Earl Blumenauer, who served as PBOT commissioner in the 1990s when our city put itself on the map as a leader in bicycling, walking, and transit.
Recounting her experience being stuck in Hawthorne Bridge traffic next to a TriMet bus, in her opening speech Eudaly said Portland needs to encourage incentives and disincentives so people, "Change their deeply engrained behaviors and their cherished traditions — namely to not drive their single occupancy vehicles [into downtown]." She also promised that no public funds would be spent on auto parking garages and that the city is current "over-investing" in east Portland, pushing back against any claims that central city investment is not equitable (an issue that has plagued bikeway investments in the past).

Even without Mayor Ted Wheeler in attendance (he's had a very rough 24 hours) Eudaly urged the council to vote on the plan instead of delaying it, as often happens at first readings of new ordinances. She said it's already taken six years to get to this point where 18 projects are vetted and ready-to-go. "We need to adopt this plan today," she said, "to move forward with any of them."
After a presentation by PBOT staff, other commissioners had the chance to ask questions.
Commissioner Amanda Fritz, known for being a walking advocate, wanted assurances from PBOT that protected bikeways wouldn't create stressful conditions for people on foot. Fritz also asked why PBOT chose SW Broadway and 4th for the marquee cycling couplet instead of 5th and 6th (a.k.a. the transit mall). It's likely Fritz asked about this because taking drivers off the transit mall is something the Portland Business Alliance has advocated for (instead of Broadway and 4th).
PBOT Project Manager Gabe Graff was ready for the question.
He described engineering challenges like access to major hotels that open onto 5th and 6th and landlocked buildings that use the transit mall for garbage service and other deliveries. "And there are political challenges," Graff added, "The property owners that paid into the LID [local improvement district] that constructed the [transit] mall were promised continuous vehicular access." Then Commissioner Fritz interjected, "And we don't want to break promises."
"Today we can begin a new era of Portland leadership in green and efficient transportation."
— Catie Gould, Bike Loud PDX vice-chair
There were several panels of people invited to testify — and most of them echoed Eudaly's call for action. A TriMet rep said they want the transit priority projects built, "As quick as we can." Many people pushed for all 18 projects to be completed in the first 1-5 years, if not sooner.
Emily Barrett, a board member for The Street Trust, told stories about how friends won't bike downtown because it's unsafe. "I don't want this to be a brave choice," she said.
Clint Culpepper, transportation options manager for Portland State University, said a permanent protected bikeway on SW Broadway "is overdue". He added that they've seen student driving rates increase, "Because of the lower level of comfort and safety bicycle riders feel in the central city."
Bike Loud PDX Vice-chair Catie Gould (who, in a mark of respect for the grassroots group, was invited by PBOT to testify) told council it's time for Portland to stop resting on its laurels. "Pent up demand for safe and efficient transportation alternatives mean that bold actions can lead to meaningful results," she said. "Today we can begin a new era of Portland leadership in green and efficient transportation."
"I like protected bikeways… They're important to get people like me to ride. I won't ride because I'm too afraid, and there are a lot of people like that."
— Commissioner Dan Saltzman
Gary Cobb, community outreach coordinator with Central City Concern, a homeless services organization, said the W Burnside project was especially needed for their clients. "We urge you to move forward with this plan.. With 6,000 low-income patients and 600 residents at our building, that part of Burnside is important for us for safety and mobility."

When it was time for public testimony, there was strong support for the plan — as well as major concerns from business owners and their advocates. And a rep from PBOT's own Freight Advisory Committee requested more analysis of trucking impacts.
There was a nearly united front from freight and central eastside business interests that the proposed protected bikeways on NE/SE 7th Avenue should be moved to 6th. PBOT prefers 7th because it's direct, wide enough to support a quality bikeway, and it connects much better to the rest of the network (including the forthcoming carfree bridge over Sullivan's Gulch). But reps from the Central Eastside Industrial Council and the PBOT Freight Committee want bikes off 7th and on 6th Avenue instead. With 6th marked as part of the future Green Loop they see think it's "redundant" to have bikes on both.
There was a clear tension between those who see the central eastside as a current and future "industrial sanctuary" and those who feel the area is changing and needs to be planned for as a residential and retail destination. It seems Commissioner Eudaly and PBOT think it will become more like the Pearl District (Eudaly even referred to it as a "former industrial sanctuary") and some business reps and Commissioner Fritz believe we need to dig in and preserve it as a heavy industry and manufacturing hub. In the end Fritz proposed an amendment to the ordinance that would "ensure freight and loading zone access for central eastside businesses." Both Eudaly and PBOT supported it and agreed to continue to work on issues raised.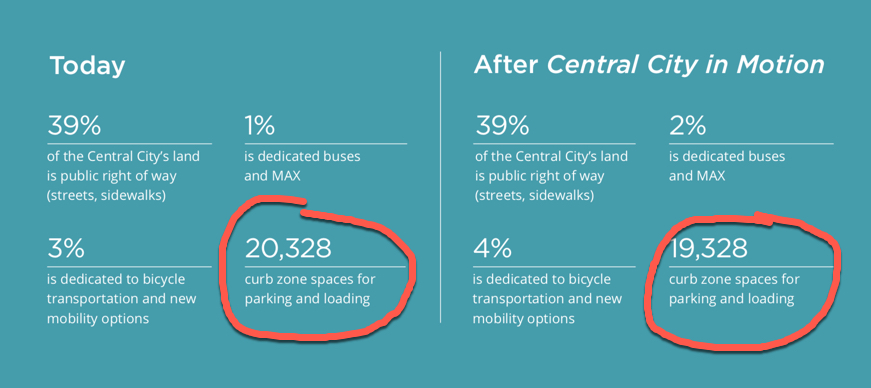 Business representatives from northeast Broadway also expressed concerns over how new protected bike lanes and other changes would impact loading zones and customer access. The owners of Elephant's Deli and Cotton Cloud futons said they would suffer if the projects were built. The owner of the futon shop on NE 7th and Broadway said, "If these things go through it will impact my business very strongly… we'd probably go out of business." Elephant's Deli owner said, "Losing the parking lanes and loading zones would be devastating."
An employee of Modern Times Beer, located on SE Belmont between 6th and 7th also expressed concerns with the plan. He said their brewery has access doors on both streets and worries they'd be closed off if the project is built. He said he supports the goals of the plan, but that, "We need to ensure our ability to survive won't be impacted."
After they spoke and returned to their seats, PBOT Project Manager Gabe Graff walked over and got their contact information — a very smart move that was surely seen by the commissioners.
Rina Jimmerson with the Central Eastside Industrial Council said the loss of 100 on-street parking spots along 7th Avenue would, "Disrupt our parking system." Jimmerson added that PBOT hasn't done enough outreach to businesses and that the projects would hurt workers who drive into the central eastside. "We're not against bikes," she said, "but this plan needs to remember the low-wage workers."
After the ebullient start of the hearing, at this point it felt like the tide might be turning against the plan.
Then Jessica Engelman stepped up to the mic. Engelman is a dedicated transportation advocate who volunteers with Bike Loud PDX and lives in the central eastside. She said she signed up to testify late, specifically to respond to concerns that might have popped up. Anyone saying there hasn't been enough outreach on this plan, "Has been living under a rock," she said confidently, as she pointed out a list of previously adopted plans that the Central City in Motion plan would fulfill (and which she printed out and gave to the commissioners). When it comes to putting a bikeway on 6th instead of 7th, Engelman warned that would be a big mistake and would lead to the same problem we have now of bicycle riders trying to ride through the Waterfront Park path.
As for concerns from businesses on inner NE Broadway? "I don't shop there because it's a terrifying street," Engelman said, "Maybe if we made it a little less terrifying you'd get more business and you wouldn't have to close."
The Street Trust Executive Director Jillian Detweiler took a much different stance with her testimony than other advocates in the room. She appealed directly to commissioners and told them how her organization's encouragement programs — like Women Bike, the Bike More Challenge, and others — would get people on bikes. "We want to be your partner to ensure that if these projects are built, they will be successful." (The one-two punch between Bike Loud PDX leaders and volunteers and The Street Trust was really effective.)
With Mayor Wheeler absent and Commissioner Nick Fish having left for some reason during the hearing, and with concerns raises about business and parking impacts, it wasn't clear that council would vote on the plan last night. But as persuasive testimony in favor of the plan piled up, and PBOT project staff confidently answered every question raised, the remaining three commissioners (which is enough for a quorum) decided the time to pass it was now.
Prior to votes being called, Commissioner Eudaly offered a closing statement that caused several transportation advocates in the room to touch their hands to their hearts. She thanked biking activists for their work (calling several out by name) in making Portland a safer and easier place to ride and said, "For too long we've taken care of… car drivers. If it seems like we're devoting a lot of time and money to walking and biking; we are. And it's very necessary." Saying that it's "imperative" due to climate change, public healthy, safety, equity, and quality of life, Eudaly brushed aside driving concerns. "We can't please everyone all the time."
Then she went further, telling a story that cars with engines are relatively new to our streets and that, "For millennia before, streets served multiple purposes." Citing the Critical Mass motto, Eudaly continued: "We are traffic. I have a motto for people who are single-occupant vehicle drivers frustrated while sitting in traffic. You are the congestion!"
After she voted "Aye," Fritz and Saltzman gave their closing statements.
Fritz said the plan is "very important" and called herself a, "Huge pedestrian and transit advocate." Then she added, while she herself doesn't like to bike, because her son and his wife ride, "I'm also an avid cycling advocate." She voted "Aye."
And Saltzman, with just a few months left in his long tenure as a city commissioner, said, "I like protected bikeways a lot. They're important to get people like me to ride. I won't ride because I'm too afraid, and there are a lot of people like that… If we're going to be successful to get our bicycling rates up, we need to overcome that." He voted, "Aye."
And the resolution passed. And there was much rejoicing — not just from the advocates in the room; but from the commissioners themselves, who, even after a long day seemed to appreciate a civil and productive meeting where something of great importance to our city moved forward with widespread support.
Great job everyone! This is a massive step forward for Portland.
Here's a photo from Kiel Johnson after the meeting that shows just a small part of the dedicated advocates who worked to make this happen:
Helpful links for more info:
– Don't miss our live-tweeting coverage thread which you can read here.
– Central City in Motion official city website.
– Central City in Motion Implementation Plan (PDF, 27 MB)
– Interactive map of all 18 projects.
– About funding: Of the $35 million needed to build the first phase projects, PBOT has: $8.3 million secured (federal grant and local gas tax); $16.7 million highly likely from TriMet ($5.5M) and System Development Charges ($11M). There's still a $10 million or so gap to fill; but when you've got this much momentum and legwork done on a set of shovel-ready projects, money has a way of magically appearing. That said, we'll need to fight hard to get more money to build this stuff.
UPDATE, 11/16 at 4:51 pm: The Willamette Week reports that both Mayor Wheeler and Commissioner Fish would have voted yes on the plan.
— Jonathan Maus: (503) 706-8804, @jonathan_maus on Twitter and jonathan@bikeportland.org
Never miss a story. Sign-up for the daily BP Headlines email.
BikePortland needs your support.