I'm just back from my first-ever trip to Baja California Sur. I was not there for work; but I did manage to snap a few photos of people on bikes and various infrastructure and street scenes.
My significant other Juli (the one whose grace and patience has allowed me to work on this blog for the past 13 years) and I split our week between Todos Santos and Los Cabos. The southern tip of Baja is a fantastic place and I highly recommend visiting. I can't believe I've lived half of my life and am just now discovering this part of the world!
Before I jump back into the news and our other offerings, I have a few images that I thought some of you might appreciate…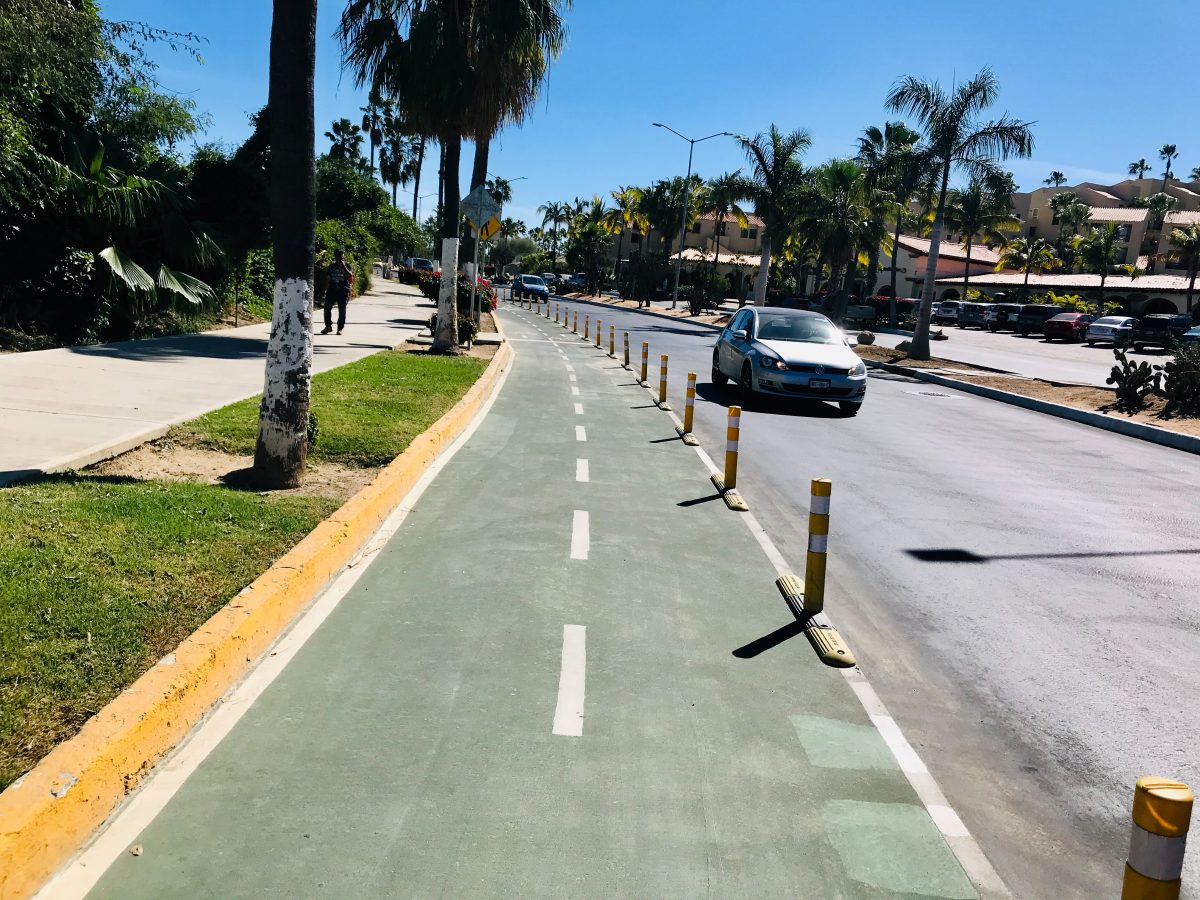 The shots above are a protected bikeway on Calle Blvd Antonio Mijares, a major thoroughfare in San Jose del Cabo (which, along with Cabo San Lucas, makes up Los Cabos, or "The Capes" in English). I didn't see too many people using them, but I wasn't there in the evening when most people are out and about. The on-street version has a similar method of protection — plastic posts and curbs — as the City of Portland has used. It looked similar to Better Naito, but not quite as wide. The off-street version was quite nice. Biking space was visually separated from walking space with green coloring. This bikeway is about 1.75 miles long and connects to many important destinations for tourists and locals alike.
The scenes above are from Plaza Mijares, the main square in San Jose del Cabo. This place was a big highlight of the trip for me. I can never get enough of large, well-designed and well-used public plazas, no matter what country I'm in. At night, Plaza Mijares comes alive with artists, food vendors and locals. In one of those images you can see a father teaching his young daughter how to ride a bike. There were several couples using the plaza as a roller-skating rink, teens flying around on long skateboards, people practicing traditional dances, and so much more. Great public space is so valuable. I love seeing it used and appreciated by so many different types of people.
---
While walking around the neighborhoods in San Jose del Cabo I spotted this "Exclusivo" parking spot outside someone's home. It didn't look official; but who knows? The person even put the make, model, and license plate number of the car the space is exclusively for.
---
One thing I noticed throughout Los Cabos was the ample space given to people with disabilities. These spaces on Playa el Chileno (a public beach south of San Jose del Cabo) are for people using mobility devices. They are at the end of a wide and gradual boardwalk. I've never seen anything like this on a beach before. Major kudos to the local government for doing this.
---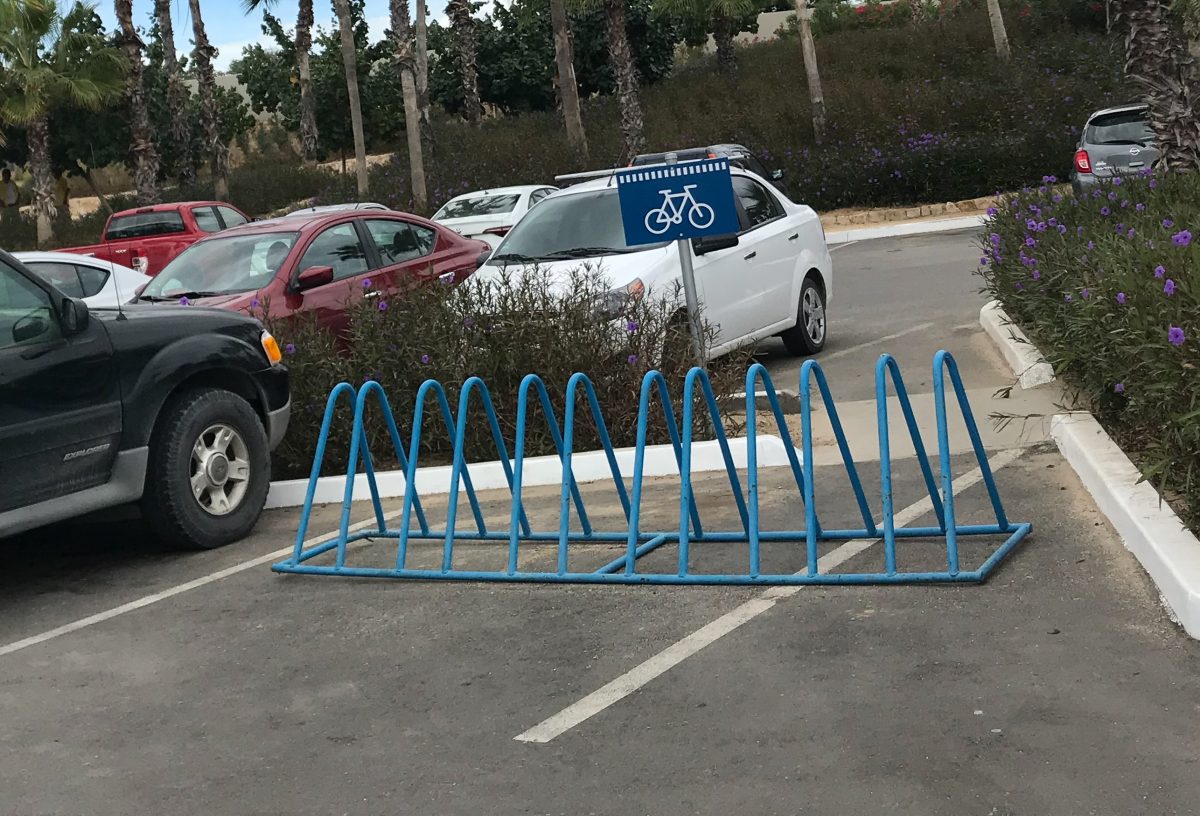 Nicely marked spaces for parking bicycles right near the main entrance of Playa el Chileno.
---
This dude hanging out on Playa los Cerritos (a rustic and relatively undeveloped town near Todos Santos) had it all figured out. He rolled up with his board, chair, tent and all his other trappings strapped to his bike.
---
These last two are just street scenes from Todos Santos, a cool small town on the west cape that I hope to return to someday. I hear mountain biking in the nearby Sierra de la Laguna mountains is really good.
Thanks for indulging me. I have a bunch of catching up to do. Sorry for the missed emails, events, and stories these past couple days (I did manage to post a few things while away). I'm eager to get back to work!
— Jonathan Maus: (503) 706-8804, @jonathan_maus on Twitter and jonathan@bikeportland.org
Never miss a story. Sign-up for the daily BP Headlines email.
BikePortland needs your support.