There's an exciting mix of old and new on the streets of Guadalajara.
– More photos below –
(Photos © J. Maus)

For this week's Photo Focus (a semi-regular column where I share images from the BikePortland Photo Archives) I'll share memories from my trip to Guadalajara, Mexico back in February 2009.
I've been thinking of Guadalajara recently for several reasons; their DIY bike activism has been getting a lot of attention of late; local activist and business owner Ryan Hashagan recently passed through and sent back several dispatches; and Guadalajara has been selected as this year's host for the World Carfree Conference (of which I was invited to, but have yet to confirm plans!).
I have very fond memories of Guadalajara. I could sense the pent up energy for a transportation revolution and I'm not surprised at their recent momentum. See a selection of photos from my trip below…
Many of my images were from the Via Recreativa, an event similar to our Sunday Parkways, where the streets are opened up to people by prohibiting the use of motor vehicles.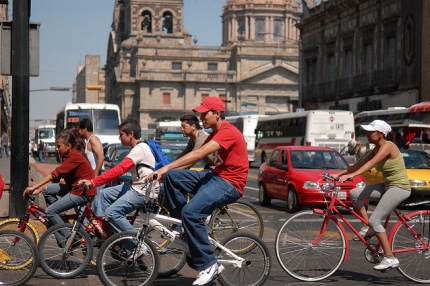 Delivery vehicle.
Me on a rental bike.
Hope you enjoyed the photos. See more from the Photo Focus series here (if you would like to sponsor this column, please contact us).