As with many of Silca's products, their latest tool called Ypsilon Wrench caught my eye and I could not resist. This is a quality tool that looks the part.
For those who have never used a Y-wrench or as I call them "3 – ways", it's a fast tool when working on multiple aspects of the bike. Flip the tool around quickly for another size tool to adjust a different fastener. Mechanics have seen the advantages of Y wrenches for years.
Here's what comes with the Home Edition ($108, with a birch box and Travel Edition ($74, without the box):
– 18 Tools total
– High strength CrV steel spine leading to 4mm and 5mm hex
– Lightweight composite body with ergonomic grips
– ¼" bit collet with magnetic attachment
– S2 steel Hex bits: 1.5, 2, 2.5, 3, and 6mm
– S2 steel Torx® bits: T8, T10, T15, T20, T25 and T30
– S2 steel Screw bits: PH1, PH2, SL4 and SL5
– Birch case with magnetic closure (Home Essentials kit only)
Engineering
A key engineering benefit of Ypsilon is the tight tolerances of the keys and bits. Tighter tolerances mean a better tool-to-part fit which drastically decreases the likelihood of rounding out fastener heads or damaging screw slots. We have all done it in our past and ultimately having to deal with removing a stripped bolt from your high end gear – not pleasant. These tight tolerances, combined with the CrV steel spine of the tool make Ypsilon incredibly durable.
The Ypsilon Home Kit comes in a custom Birchwood box with a range of hex, Torx and driver bits that sit in a foam holder. The Ypsilon Travel Kit comes with everything that the Home Kit comes with minus the box, and they offer the y-wrench entirely on its own.
Ergonomics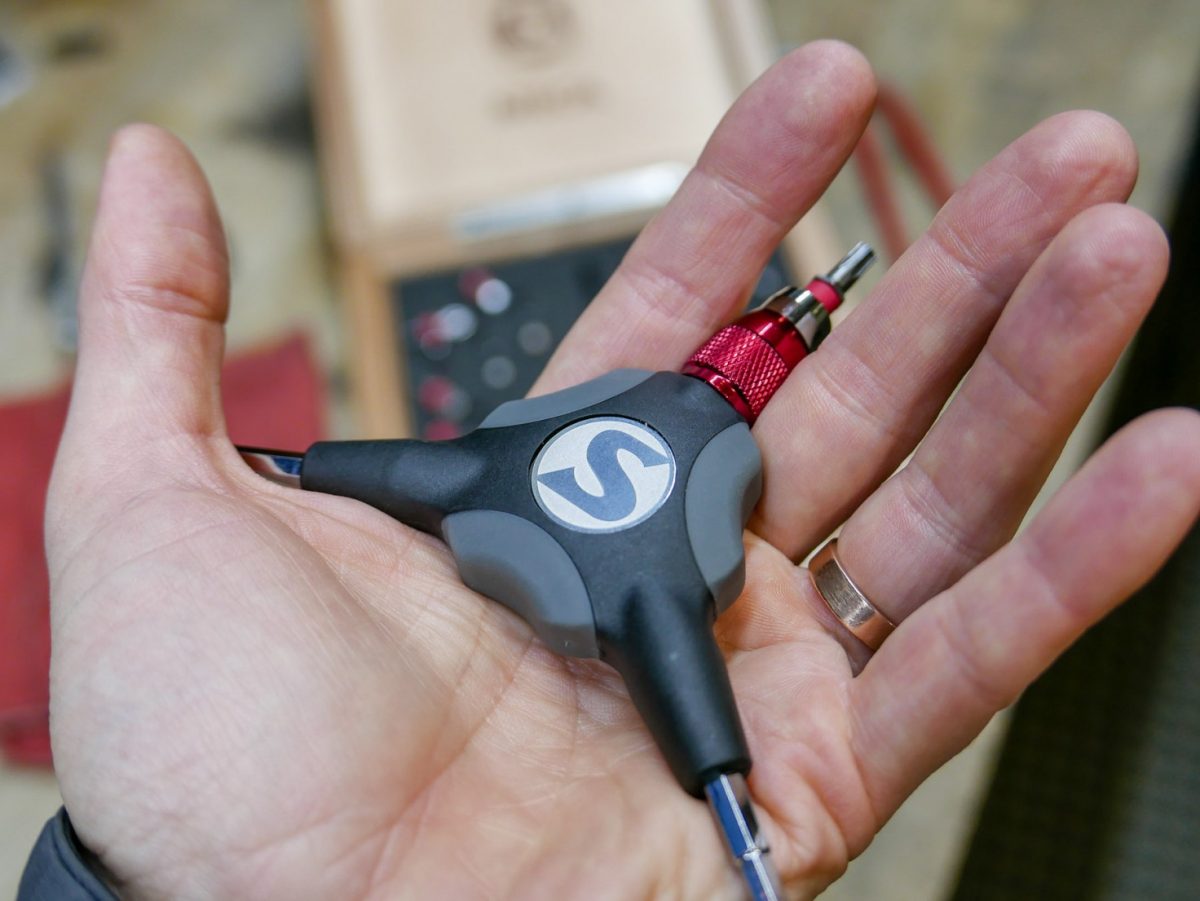 Hand tools have an self-evident way of highlighting poor ergonomics and with Y-wrenches you might already know they are not all ergonomically equal. Some are too heavy, some too slippy and others just too large for your palm. Silca's shape and size has been optimized and the over-molded TPE grips provides a soft spot for the pressure points on your hand. The lightweight composite body with ergonomic grips provide good comfort and control. For those who have never used a Y-wrench or as I call them "3 -ways," it's a fast tool when working on multiple aspects of the bike. Flip the tool around quickly for another size tool to adjust a different fastener.
In Use
The Ypsilon feels great in the hand, the addition of the lighter grey softer plastic areas are a welcome design that provide grip and comfort that is not present on many tools of this type. As for durability, the construction of these softer areas is a deep molding and is not a thin plastic over-mold.
This design feels very precise to use, a positive engagement with fasters that makes you feel in control to a much finer degree than a less well engineered tools. The grip is well designed, the shape and weight are just right, a presence in the hand, while not being too heavy or slippy.
The tool bits are interchangeable and easy to use, they quickly snap in and out (the magnet sits at the bottom of the red collar). The collar doesn't turn, it feels like it should but it's a fixed design to accommodate various bits and the knurling is more of a decorative feature.
The tool bits have a higher polish than inexpensive counterparts, and are wrapped with a nice plastic identification band which makes them quicker to identify. Normal identification is stamped into bits, and can be harder/less obvious to read.
Overall
Quality, well designed tools definitely have a place and offer different levels of value to each. The Silca Ypsilon doesn't come cheap, but why should it? It looks, feels and performs five times better than less precise tools with lower-quality bits – and this comes at a manufacturing cost.
Can you put a price on the confidence this tool inspires? Or the reduction in likelihood that you will damage an expensive fastener on your expensive bike? Or that the tool looks cool and is presented really well? Yes and no. The choice is yours, but this is a quality tool worth your attention if it fits your budget.
More at www.silca.com.
— James Buckroyd, @jbucky1 on Twitter and Instagram, and BuckyRides.com
Never miss a story. Sign-up for the daily BP Headlines email.
BikePortland needs your support.
Hello, Im a designer and passionate cyclist.
I run my own design company – JDBDESIGN – www.jdbdesign.co and I channel my product design knowledge into my reviews.
I ride bikes a lot, mainly commuting, road and gravel rides. I also document bike stuff at www.buckyrides.com