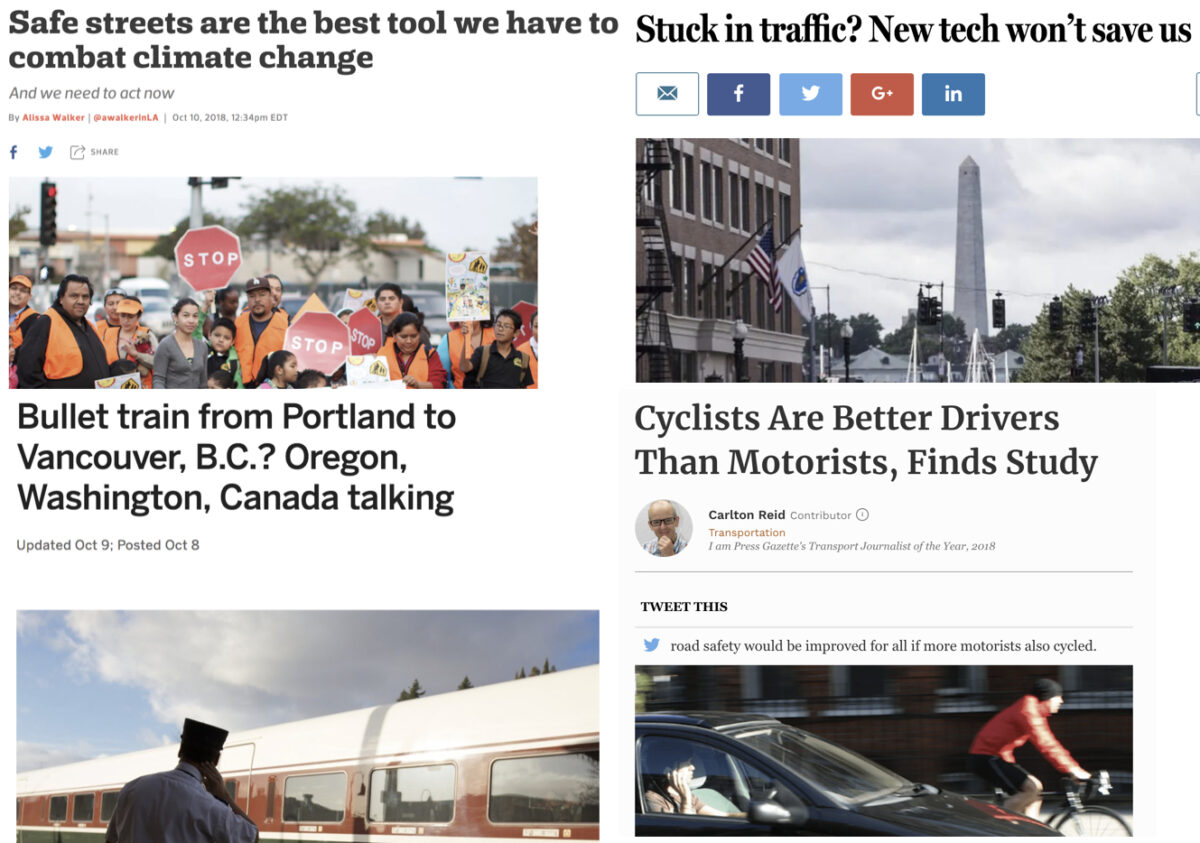 Here are the most notable stories we came across last week:
Silver bullet: You've probably heard that electeds and policymakers from Oregon and Washington are eager to replace the I-5 bridge; but did you know there are early-stage talks to build a bullet train between Portland and Vancouver, BC?
Transit subsidy: Seattle is the latest west coast city to pass a local mandate requiring certain companies to allow employees to use pre-tax wages to pay for transit. Why they heck doesn't Portland do this?!

Climate warning: The new climate change report from the IPCC is very serious and should not be passed over. The question now is: How should we change our existing plans/projects/policies given the dire warnings contained in the report?
Safe streets are the answer: LA-based writer Alissa Walker says the climate report should make it much easier for "climate mayors" to get tough on auto overuse and commit to safe streets.
The 'War on Cars' has begun: I could not think of better people (Sarah Goodyear, Aaron Naparstek and Doug Gordon) or a better place (New York City) for the new War on Cars podcast to come from. Give it a listen and prepare to be inspired and informed.
Bicycling makes you a better driver: A UK-based insurance company found that, among policyholders, people who frequently ride bikes make far fewer claims than those who don't.
Driving ban in London: Another city has proclaimed its intention to prohibit driving in sections of its downtown core and reduce speed limits to 15 mph. London planners believe the policy is needed to create a world-class street scene and "future-proof" the city.
Scooters, legally-speaking: The Bike League shared a breakdown of key bicycle-related laws and surmised how they might – or might not – relate to scooters.
Corporate mobility hooks another big fish: Scott Kubly (Lime), Caroline Samponaro (Lyft), Nelle Pierson (Jump), Paul Steely White (Bird), and now former US DOT Secretary Anthony Foxx (Lyft). The trend of major transportation advocates/leaders moving from non-profit/public service into the corporate realm continues.
5,000 bikes recovered: Bike Index celebrated a major stolen bike recovery milestone by interviewing a woman whose bike was taken from a rack after someone cut through her u-lock.
Why nobody bikes in LA: Noted writer and activist Peter Flax spread blame in many directions — including hostile drivers and toothless professional advocates — in an essay about why he believes Los Angeles is the worst city for biking in America.
Tech is not your bro: "Don't let techno-utopianism become a pretext for doing nothing." Glad to see more people beginning to understand that our transportation problems won't be solved by high-tech solutions alone.
E-bike pros and cons: Lifehacker shared a great explainer about e-bikes that could help you decide if they're right for you (spoiler: after the deep dive, the reporter said she's now a believer!).
Video of the Week: Former Portlander (sniff, sniff) Russ Roca of Path Less Pedaled returned this weekend and posted an entertaining vlog full of shop visits and other bikey adventures around north Portland:

— Jonathan Maus: (503) 706-8804, @jonathan_maus on Twitter and jonathan@bikeportland.org
Never miss a story. Sign-up for the daily BP Headlines email.
BikePortland needs your support.