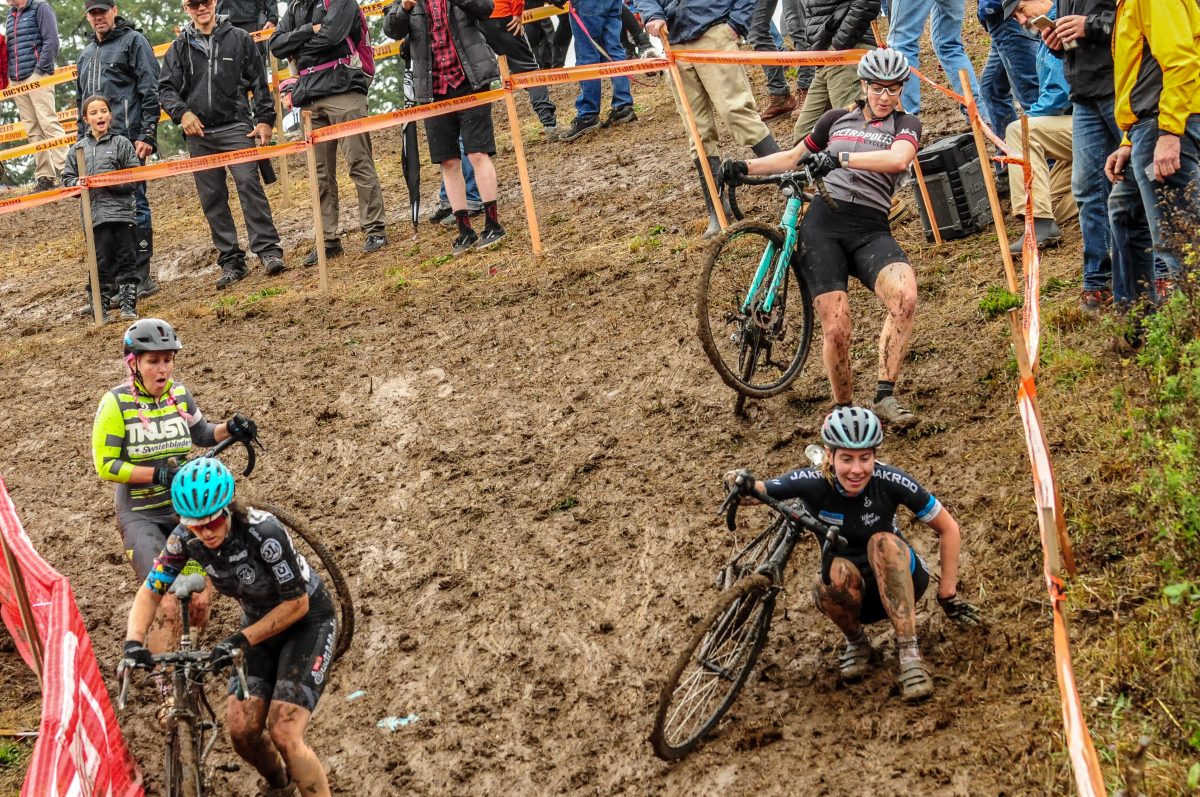 For many Portlanders who care about our country, last week's new cycle was very stressful.
What better way to escape for a few hours than attempt to ride a bicycle on mud as slick as ice? That's what many people did yesterday at the second race in the Cyclocross Crusade series held at Alpenrose Velodrome in the hills of southwest Portland.
It's been a while since I focused on capturing images of a cyclocross race, and I picked an epic one. After a dry opening day on Saturday, rain returned on Sunday and soaked the top layer of dirt on the technical, hilly course. As late morning rain fell, it became difficult to even walk on some in some areas (I slammed on my butt several times just getting these images).

I could barely imagine what it was like for the intrepid souls who braved the conditions.
The most insanely slick section was the northwest corner of the course that featured a muddy, off-camber scramble punctuated by a straight downhill. Challenging does not begin to describe this section. The way people approached it provided hours of entertainment to spectators: Some tried to tip-toe; some just mounted their bikes at the top and bombed bravely down, some slipped and fell spectacularly, others just instantly gave up and slid down on their backsides. Through it all, faces full of smiles far outnumbered those full of frustration.
There was one particularly cruel (or sublime, depending on your skill level and idea of fun) section around a tree that gave even the top riders fits. No method proved reliable for navigating around this tree. Some people tried holding on and swinging around it, others tried the tip-toe method. Only a select few tried to ride it…
But it wasn't all muddy mayhem. Cyclocross is a beautiful sport that combines so many athletic elements — speed, strength, balance, grit, grace, skill. There was a lot of all those things on display Sunday…
To everyone who completed yesterday: We salute you!
View the full gallery over on our Facebook page.
— Jonathan Maus: (503) 706-8804, @jonathan_maus on Twitter and jonathan@bikeportland.org
Never miss a story. Sign-up for the daily BP Headlines email.
BikePortland needs your support.