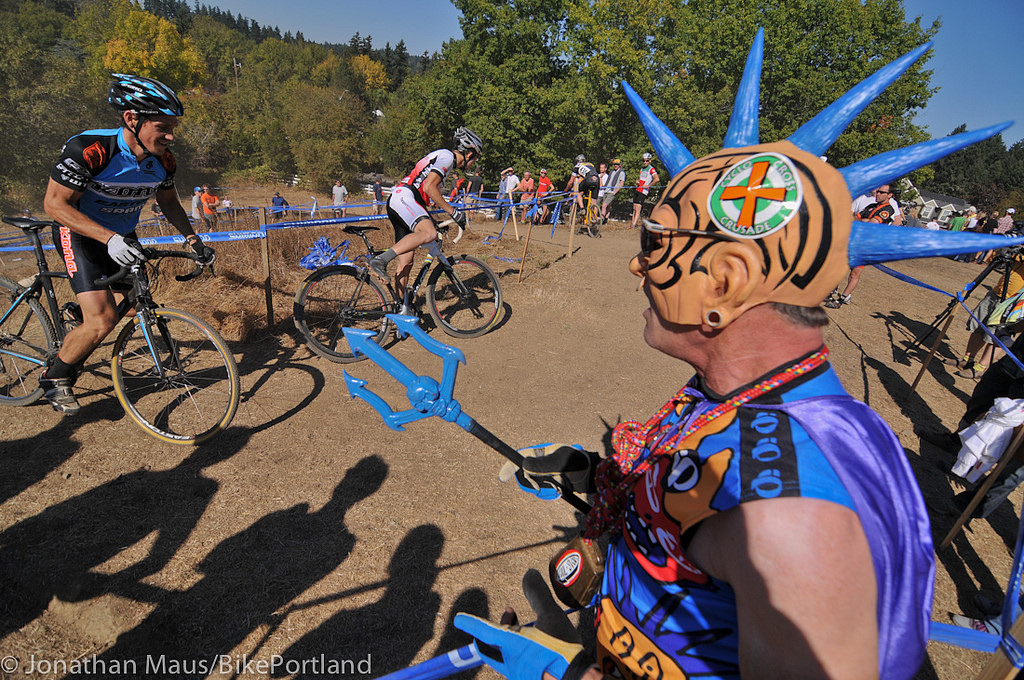 The weekend is near. We hope you'll have the time and ability to indulge your love of cycling. The fall colors are peeking out and we've got some season-appropriate suggestions in this week's guide.
Here are our selections…
Friday, October 5th
Cyclocross Crusade Kickoff Party – 5:30 pm to 7:30 pm at Hopworks Urban Brewery (SE)
Get your Crusade off to a fun start with a get together at HUB where you can hook up with racing buddies, get registered, grab your number, and enjoy fine food and drinks. More info here.
Saturday, October 6th
Cyclocross Crusade #1 – Alpenrose (Day 1) – 8:30 am to 5:30 pm at Alpenrose Dairy (SW)
What better place to kick off the 25th Crusade season than at Alpenrose — where 'cross racers first toed the line in 1997! This is going to be yuuuge! From the team pits, to the great spectating and racing — get out there and be a part of the magic. More info here.
Endless Summer Saturdays – 9:00 am to 5:00 pm in Parkdale, OR
Join the kickoff ride of The Club Roule's Endless Summer series with a spirited 50-mile, 6,000-foot elevation jaunt from Parkdale up and around Lost Lake. More info here.
Simworks Fender Pop-up at Golden Pliers – 12:00 pm to 7:00 pm at Golden Pliers Bike Shop (N)
Japan-based distributor of very fine cycling components and accessories, Simworks, will set up shop in north Portland's Golden Pliers Bike Shop to do fender installs while a local sushi place creates their edible wonders. More info here.
Sunday, October 7th
Cyclocross Crusade #2 – Alpenrose (Day 2) – 8:30 am to 5:30 pm at Alpenrose Dairy (SW)
Weren't able to make it out to Saturday's event? You're in luck because it happens again on Sunday. No excuses! More info here.
Bike the Levees – 10:00 am to 1:00 pm at Blue Lake Park (E)
Do you know your levees? The Multnomah County Drainage Districts and the Columbia Slough Watershed Council will lead this 15-mile ride where you'll learn about our local levee system (a.k.a. those things the Marine Drive Bike Path is on). Registration required. More info here.
Pumpkin Patch Ride – 11:00 am to 3:00 pm at Golden Pliers Bike Shop (N)
Tis the season! Enjoy spiced cider and donuts at the shop before rolling out to Sauvie Island to find the pumpkin of your dreams. Some cargo space will be provided, but everyone is encouraged to bring their own bags, baskets, racks, cargo bikes, trailers, and so on. 25 miles round-trip. No-drop, group ride. More info here.
Stay plugged into all the bike and transportation-related events around the region via our comprehensive event calendar.
— Jonathan Maus: (503) 706-8804, @jonathan_maus on Twitter and jonathan@bikeportland.org
Upgrade your inbox: Sign up here to get the Weekend Guide and all our stories delivered via email.
BikePortland needs your support.
Contact Jonathan at @jonathan_maus on Twitter, via email at maus.jonathan@gmail.com, or phone/text at 503-706-8804. Also, if you read and appreciate this site, please become a supporter.