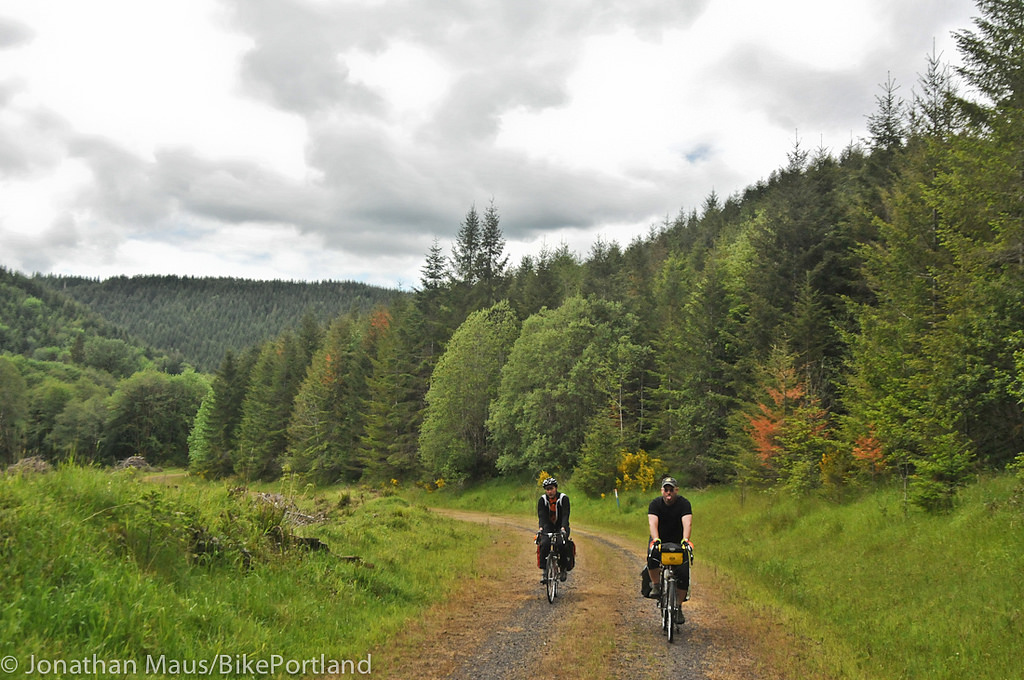 *We need a new sponsor for the Weekend Event Guide and the BikePortland Calendar. Please contact me for more info!
The weekend is right around the corner and it's time to make plans. The fall colors have begun to peek out and a bicycle is a great way to see them.
Here are our picks for the best things to do…
Friday, September 28th
Alice Awards – 5:30 pm at Castaway Portland (NW)
This annual awards dinner and auction is the largest fundraiser of the year for The Street Trust. This year the event will recognize William Henderson (Ride Report) and Leah Benson (Gladys Bikes). More info here.
Saturday, September 29th
Grand Prix Carl Decker #5 – Heiser Farms (Dayton)
It's the finale of the GPCD and it's going down on a farm in the Willamette Valley. Come for the bike race, stay for the pumpkin gathering, hay rides, and other farm-life trimmings. More info here.
Sorella Forte Women's Club Ride – 9:00 am to 12:00 pm at River City Bicycles (SE)
Join the women of Sorella for this well-reputed, long-running ride. You'll be able to work on your group riding skills and test your legs against experienced riders. Expect a pace of about 15-17 mph.More info here.
Bike to Vancouver Waterfront Grand Opening – 10:30 am to 2:00 pm at New Seasons Market (N Williams Ave)
ICYMI, the City of Vancouver has built a brand new development on their waterfront. And the good news is that it includes new paths for biking and walking! Join Mr. Puddlecycle Tom Howe and a merry band of riders on this excursion from north Portland, over the I-5 bridge and to the new waterfront! More info here.
Sunday, September 30th
Ride the Gravel CZ Trail – 9:00 am in Scappoose
Join Portland Wheelmen Touring Club ride leader John Joy for this all-day adventure on the Crown-Zellerbach Trail. He'll lead you off-road (touring/gravel/MTB bikes recommended) to Vernonia and back. More info here.
Floyd's Fine Cannabis Opening Day Party – 1:00 pm to 5:00 pm at Floyd's Fine Cannabis (NE)
Former Tour de France competitor Floyd Landis is in town and he's ready to celebrate the grand opening of his new "cycling-themed" cannabis stores. Join him for a ride at 9:00 am (meets at River City Bicycles) or just show up to the new store on NE Broadway to partake in the festivities. More info here.
Stay plugged into all the bike and transportation-related events around the region via our comprehensive event calendar. Sign up here to get the Weekend Guide and all our stories delivered via email.
— Jonathan Maus: (503) 706-8804, @jonathan_maus on Twitter and jonathan@bikeportland.org
BikePortland needs your support.