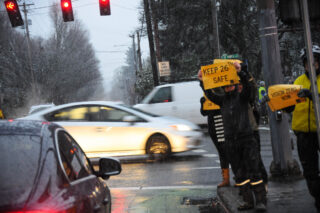 Southeast Uplift, an official City of Portland neighborhood coalition group that represents 20 neighborhoods, has thrown their weight behind opposition to the Portland Bureau of Transportation and the Oregon Department of Transportation's negotiated settlement to remove bike lanes on SE 26th Avenue approaching Powell Blvd.
As we've been reporting for nearly three years now, the nearly unprecedented removal of bike lanes on a city street is the result of a squabble between PBOT and ODOT. As final word came down from ODOT in February that they planned to cash in an agreement wrung out of PBOT over the lanes, there's been a ratcheting up of activism to keep them.
Southeast Uplift joins a loud chorus speaking up against ODOT's inexplicable demands for the removal of these bike lanes. Activists rallied during a snowstorm in February where the director of The Street Trust, Jillian Detweiler, said removing the lanes is "completely unnecessary."

In their letter to PBOT Commissioner Dan Saltzman and PBOT Director Leah Treat, SE Uplift Co-chairs Terry Dublinski-Milton and Reuben Deumling say their board is, "Very concerned about the safety ramifications," of removing the lanes.
ODOT says they feel the lanes should be removed because they're too dangerous and that a new bikeway on 28th is safer. SE Uplift says using 28th is, "Not viable for commuters heading to the employment zones of the central eastside or points downtown."
Here're more from the letter:
"Commuters will take the path of least resistance and SE 26th has functioned as a commuter route for over a generation. It is fast, flat and direct. Thus, the new successful new crossing of Southeast Powell at SE 28th will not provide enough benefits to change behavior of cyclists accustomed to the SE 26th route. Without an alternative in place prior to removal of the SE 26th bike lanes, commuters will continue to use SE 26th, making a dangerous situation worse."
SE Uplift wants PBOT to pause on plans to remove the bike lanes. And if the City chooses to ultimately move forward, SE Uplift says they should do so only after making 21st Avenue safer so it can be used as a viable alternative.
Read the letter here.
— Jonathan Maus: (503) 706-8804, @jonathan_maus on Twitter and jonathan@bikeportland.org
Never miss a story. Sign-up for the daily BP Headlines email.
BikePortland needs your support.