Posted by Jonathan Maus (Publisher/Editor) on April 24th, 2018 at 2:28 pm
Some of Portland's toughest bike races don't even happen on the road.
Over the past seven years, exercise physiologist Rick Cady has melded his love of cycling with the science of human performance to create an indoor training center unlike anything in Oregon.

At Cady's C-Velo Performance Cycling Training Center in Sellwood, customers attach their bikes (sans rear wheel) to "smart" trainers and compete against a bevy a data that tells them how hard they're working as they pedal.
I showed up last week to watch them "race".
As riders filtered in it was clear camaraderie is a big part of what makes Cady's business tick. It was like the old TV show Cheers as people reacted to old friends and settled into their places at the bar. "There's always energy in a group environment," Cady said to me as he set up his software program and told riders which of the 15 trainers to sit on.
"I'm trying to fill the niche of what Spin studios don't cater to," he continued. "Those places cater to the general person who wants a workout where they can sweat on a bike. I'm working with athletes who want to have their off-season actually mean something."
For riders like Mielle Blomberg, whose husband Shane also did the race, one appeal of this Wednesday night class is a social one. "I show up because I want to hang with this group," she said. "I feed off the energy."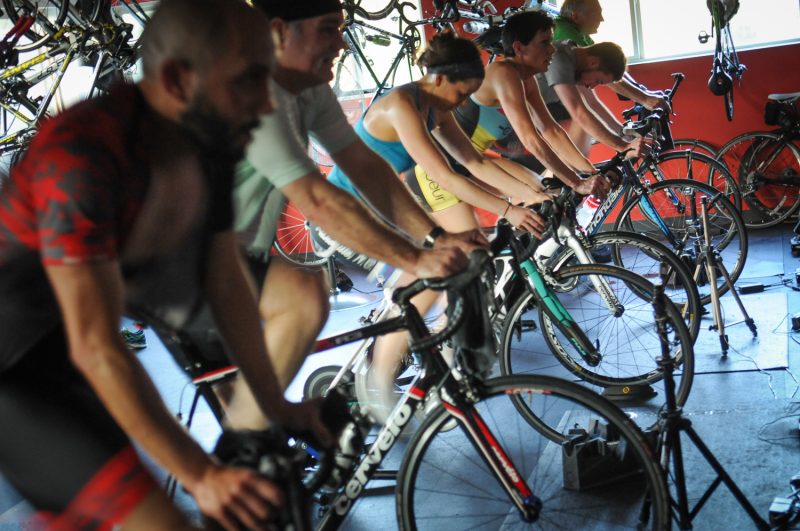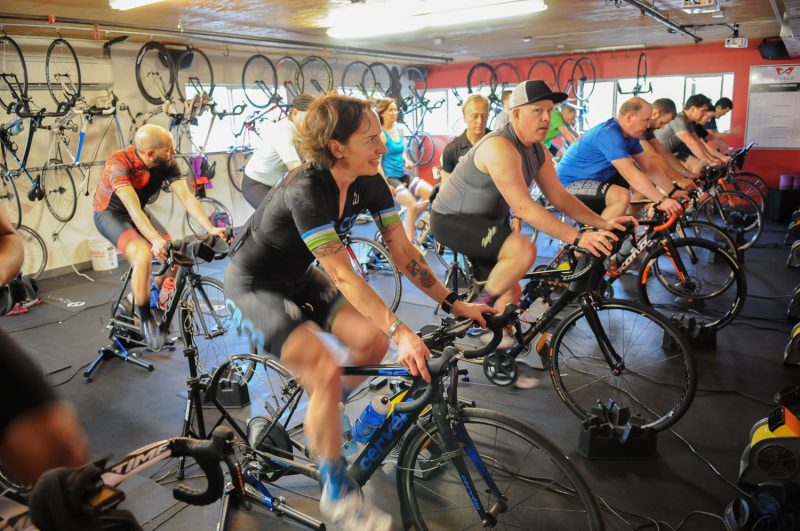 Indoor training has gone through many tech revolutions since Cady first opened his doors in 2011. Back then he set up resistance trainers (devices that hook onto a rear wheel of a bicycle and allow you to pedal in place) that had a very basic console for vital data. "It was like a Spin class, but power-based," he recalled. In the bike training world, a rider's power output is a standard metric used as the basis for workouts. Once your functional threshold power (FTP, the amount of watts you can sustain for an hour) is set, a coach like Cady can customize a training plan that will make you stronger and faster.
"We suffer together. It's a community."
— Saachi Murthy
In the past few years, trainers have gotten "smart" — and they've been connected to the Internet via subscription services like Zwift. With a Bluetooth-enabled smart trainer and a Zwift account, a rider can watch themselves compete for points, prizes, and personal records on a computer screen alongside thousands of people from around the world who are using it at the same time. The trainers mimic the contours of the road, getting harder to pedal on a climb and easing up on downhills.
Cady uses similar technology for his classes. During a typical workout, the trainers automatically adjust resistance. "They don't have to think," Cady said of his clients. "They can just come in, set up, and follow what we tell them to do."
The 15 people who showed to Cady's one-hour session on Wednesday are doing an 8-week course aimed at building power. Cady uses a customized version of PerfPRO, software that connects to each rider's trainer and calculates a dizzying amount of data. The software can derive how much power each person creates, how fast they're pedaling, the distance they're going, and so on. A key aspect of training with power data is that it can equalize riders with different strengths. The day's race-training session wasn't based on who could pedal the hardest, it was based on each riders' individual effort. Using an algorithm that takes pedaling output and FTP, the software calculates an "Intensity Factor" (IF) to show how hard — relative to a person's absolute limit — they're working. If you're at 100 percent IF, you're right at your threshold; if you're at 80 percent you have more to give; if you're at 150 percent you're really digging deep.
And unlike training and racing outdoors, no one can get dropped, there are no stop signs, no crosswinds, and no distracted drivers.
The riders started with a warm-up while Cady made sure they all had towels, water bottles, and that all the trainers were properly calibrated.
To spice things up, there were several "primes" in the race. In a regular race, primes are laps within the race where special prizes are given to the winner. In this case, primes were based on time. The rider who gave the most effort for 5, 10, 20, 30 and 60 seconds got the prime.
All 15 riders faced the same direction, looking at three huge LCD screens placed at eye-level along one wall. Powerful fans pointed in all directions kept everyone cool and fresh.
Saachi Murthy is a member of the Fast Fun Nice Cycling Team. He got hooked on bike racing after trying cyclocross in 2015. He comes to C-Velo to keep himself accountable. "I can't manage more than an hour on a trainer by msyelf," he told me before the race began, "It's kind of boring." Like everyone else I spoke to, Murthy also loves riding outside, but finds the controlled indoor environment especially good for all-out efforts — a.k.a. interval training.
And the esprit de corps aspect is paramount. "We suffer together," is how Murthy put it. "It's a community."
One rider I spoke to was recovering from a serious neck injury and, although he rode his heart out Wednesday night, he's hasn't been cleared by his doctor to ride outside yet.
As the racing begins in earnest, the lights go out, the room gets darker, and Cady becomes something of a drill sergeant. "Hit it! Come on! Come on!" he barks, as the riders react to the on-screen instructions telling them how hard to push and for how long.
The ground in the upstairs studio rumbled as pressure on the pedals increased. "Push harder!" Cady implored.
At the end of the workout, congratulations and prime prizes were passed around. A goofy group photo of sweaty, smiling athletes was taken, and people crowded around roaring fans to cool off. All the data from the session will be in the riders' inbox by the time they get home. They'll look over the numbers, then come back again next week to try and push them a little higher.
— Jonathan Maus: (503) 706-8804, @jonathan_maus on Twitter and jonathan@bikeportland.org
Never miss a story. Sign-up for the daily BP Headlines email.
BikePortland needs your support.
Jonathan Maus is BikePortland's editor, publisher and founder. Contact him at @jonathan_maus on Twitter, via email at maus.jonathan@gmail.com, or phone/text at 503-706-8804. Also, if you read and appreciate this site, please become a supporter.