Six years ago I scored a free 12-inch kids bike from my neighborhood mom group. It was the start of a journey — not just of riding, but of figuring out how and where to get bikes that work and that fit my constantly growing boys.


Our Family Biking column is sponsored by Clever Cycles.
➤ Read past entries here.
In this week's post I'll what I've learned in hopes that you can spend more time riding and less time finding the bike that's right for your family.
That free 12-incher (which refers to wheel-size, not the frame) was a looker with a generous basket and a dozen princesses adorning its tiny frame — but no brakes. And it weighed a ton. It was the right fit for my four-year old, but he wasn't interested in swapping his balance bike for it. I tried again a couple months later with a free 16-inch bike from the same group, but it was also heavy and barely in working order. I made out better when I called Seattle bike non-profit, Bike Works, to see if they had any 16-inch kid bikes in stock. They had one, but warned me it was "a very bright and unnatural shade of pink." It was gloriously bright, worked perfectly, and wasn't especially heavy. So I donated the two free bikes to Bike Works to see if they could turn them into useful machines and came home with what would be my son's first bike.
My two kids put many miles on that little bike before they both outgrew it and we passed it along to a friend. I have a feeling it's still tooling around Seattle somewhere with an even newer owner.
Finding the right bike at the right price is important. So scroll down for my advice on where to start…
(Note: Prices on used kid bikes vary quite a bit based on source, vintage and condition so I won't be quoting any price estimates or ranges.)
Bike non-profits
Buying used bikes from local non-profits is a wonderful way to get pedaling. At the very least the bikes have been looked over by a mechanic, if not completely overhauled. Plus your money supports their community programs. Stock varies based on what bikes have been donated and been made ready for the floor, but most places don't mind a phone call during open hours to inquire about bikes sizes and styles. Getting your bike at any bike shop also means you're at a spot where you can get other gear, like helmets, bells, and locks for one-stop shopping.
➤ Community Cycling Center (1700 NE Alberta St / (503) 287-8786 / daily 10:00 a.m.-6:00 p.m.)
Community Cycling Center is the place to go. They have a lot of bikes ready to roll out the door and you'll be helping fund their amazing programs, like the Holiday Bike Drive that gives bikes to over 300 kids.
➤ Bikes for Humanity (3354 SE Powell Blvd / (503) 496-6941 / Thursday-Saturday 1:00 p.m.-5:00 p.m.)

Bikes for Humanity is another good option and closer to those of us in the southeast. They had one bike of each size for sale when I visited and mentioned a basement full of other kid bikes just waiting to be refurbished. However, they tend to funnel all 20-inch geared bikes to Community Cycling Center for their programs so even though there was an attractive 20-inch bike for sale in the shop, they consider themselves a good bet for smaller bikes. By the way, the shop shares space with Braking Cycles Cafe and though there's no official kid corner, there's a cozy couch.
➤ Bike Farm (1810 NE 1st Ave / Monday & Wednesday 5:00 p.m.-8:00 p.m., Friday-Sunday 12:00 p.m.-4:00 p.m.)

Bike Farm is the place to go to DIY and save even more. They didn't have any refurbished kid bikes for sale when I stopped in as their sale fleet is subject to the whims of the volunteers doing the refurbishing, but they've got frames and parts in all sizes with prices ensured to not turn anyone away. Knowledgeable volunteers will help you build a bike. I didn't include their phone number because it's best to stop in during open hours rather than call.
➤ North Portland Bike Works (3978 N Mississippi Ave / (503) 287-1098 / Monday-Saturday 11:00 a.m.-6:00 p.m., Sunday 12:00 p.m.-4:00 p.m.)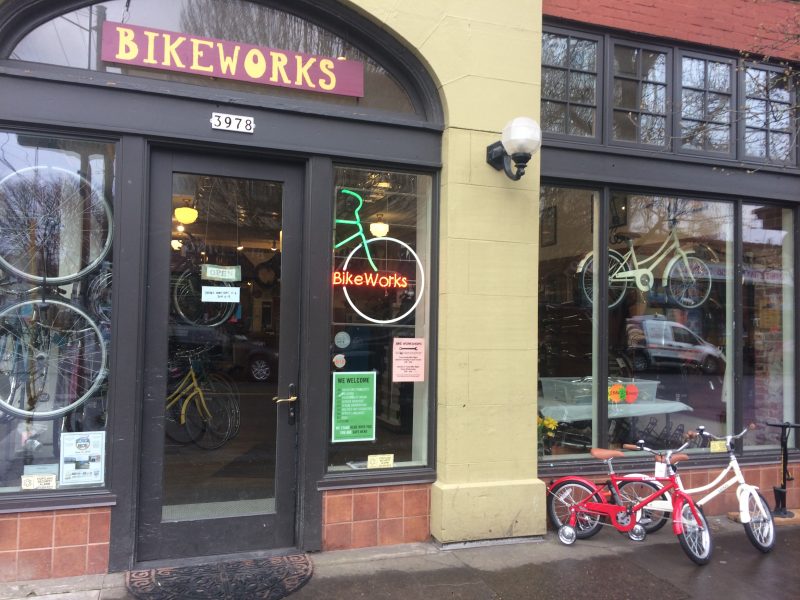 North Portland Bike Works did not have any used kid bikes on the floor when I went to visit as their holdings are based on what has been donated, but it's a lovely and friendly little shop so keep them on your radar.
Islabikes Spring Swap
Here in Portland we're lucky to have the US headquarters for Islabikes. Full disclosure: after our aforementioned 16-inch Bike Works bike, a couple 20-inch duds, and borrowing a friend's 12-inch bike, I bought my kids new Islabikes and they're each on their third one now. Islabikes is about to host their first ever swap event this Saturday (3/17) at the Islabikes facility (2113 SE 7th Ave / (503) 954-2410).
Here's the official blurb:
Has your child outgrown their Islabike? Are you looking for a place to resell it, and possibly purchase a larger one? We're inviting families to bring in their old bikes to sell to other families at our Spring Swap on Saturday, March 17th from 1pm to 3pm. Our fitting experts will be on hand to ensure the bike you buy fits your child perfectly. Our professional mechanics will be available to perform safety checks on Islabikes and offer pricing on any required parts and maintenance. We'll also have retired demos, refurbished and cosmetic-blemished Islabikes for sale at a discount.
More info at their Spring Swap FAQ and here's the BikePortland Calendar listing and Facebook event page.
Bike shops
Living in Seattle I visited just about every bike shop during my years biking with two toddlers. Bike shops are excellent spots to stop in the middle of a long day to relieve small bladders — you can wheel your kid-covered bike right in the door and not worry about locking up while hastily visiting the restroom. I can't say I've formed the same intimate relationship with all the Portland bike shops yet and while I made a point of checking out the non-profits, I haven't been into the following shops so I welcome your feedback and additions. It's great that two of these shops show their used inventory online.
➤ Citybikes (1914 SE Ankeny St / (503) 239-0553 / Monday-Friday 11:00 a.m.-7:00 p.m., Saturday-Sunday 11:00 a.m.-5:00 p.m.)
➤ Sellwood Cycle Repair (7953 SE 13th Ave / (503) 233-9392 / Tuesday-Saturday 10:00 a.m.-6:00 p.m.)
➤ NwProGear (9240 SE Woodstock Blvd / (503) 901-9546 / Monday, Tuesday, Thursday, Sunday 11:00 a.m.-7:00 p.m., Wednesday 11:00 a.m.-5:00 p.m., Friday 11:00 a.m.-4:00 p.m.)
Thrift stores
Kid bikes found at thrift stores are often not in good shape, but I'd be remiss to skip mentioning them as a source. If you buy a bike from a thrift store check that its brakes work, nothing feels loose, and that the frame looks intact before sticking your kid on it. Consider bringing it to your local bike shop for a tune-up.
Online sources
These online groups will have bikes offered, but are also terrific places to post an ISO ("in search of") for a kid bike. I have to admit most of my Buy Nothing Group transactions have been when someone asked for something that I'd been meaning to post and never got around to. These groups yield both cheap and free bikes. As I stated above, since a peer-to-peer bike most likely isn't coming from a bike shop or bike mechanic you'll have to determine if it's a good buy and safe to use.
➤ PDX Cargo Bike Gang (Facebook)
"Portland, OR Cargo/Family Biking lovers & their friends to promote community with group rides, get-togethers, and chat."
I adore this group and have noticed family biking Facebook groups around the nation are often the main reason friends use Facebook. Along with event listings, route advice, and fun pictures you'll find used kid (and cargo!) bikes.
➤ PDX Bike Sale and Trade (Facebook)
"A place to sell and trade all the bike stuff you never wanted."
I don't see any kid bikes right now, but this certainly seems like a great forum for posting an ISO.
➤ NextDoor
"We are for neighbors."
I joined NextDoor for the first time the day we moved to Portland at the urging of a nice dog owner we met at the park so we could coordinate walkies in the future. It turns out though we live a block apart my NextDoor is across the street from her NextDoor and I've never seen her again, but it's a good place to ask for used kid bikes.
➤ Buy Nothing (Facebook)
"Give. Share. Build community."
I love Buy Nothing as much for the community aspect as for the opportunity to score and offload free stuff. As a former member of a very by-the-book Buy Nothing group and having lived near the birthplace of the Buy Nothing Project, I feel compelled to warn: don't post "ISO" and rather ask in a more conversational way. As administrators of my former group would scold, "You wouldn't open your front door and say 'I-S-O kid bike' to people walking by." I hope I didn't scare you; go find and join your local Buy Nothing group!
➤ Craigslist
Craigslist online classifieds is teeming with bikes! Browse both the bike and baby & kid stuff
sections. Or just do a general search. Craigslist can be competitive so save your search (near the upper right corner) to get email notifications or beat the game with an IFTTT text alert.
Thanks for reading. I'd love to hear about your used kid bike experiences. Feel free ask questions in the comments below or email me your story ideas and insights at madidotcom [at] gmail [dot] com.
— Madi Carlson, @familyride on Instagram and Twitter
Browse past Family Biking posts here.
Get this and other BikePortland posts delivered directly to your inbox.
BikePortland needs your support.
Madi Carlson (@familyride on Twitter) wrote our Family Biking column from February 2018 to November 2019. She's the author of Urban Cycling: How to Get to Work, Save Money, and Use Your Bike for City Living (Mountaineers Books).
In her former home of Seattle, Madi was the Board President of Familybike Seattle, a non-profit organization dedicated to promoting bicycling as a means for moving towards sustainable lifestyles and communities. She founded Critical Lass Seattle, an easy social group ride for new and experienced bicyclists who identify as women and was the Director of Seattle's Kidical Mass organization, a monthly ride for families. While she primarily bikes for transportation, Madi also likes racing cyclocross, all-women alleycats, and the Disaster Relief Trials. She has been profiled in the Associated Press, Outdoors NW magazine, CoolMom, and ParentMap, and she contributed to Everyday Bicycling by Elly Blue.