Posted by Jonathan Maus (Publisher/Editor) on January 10th, 2018 at 9:30 am
As I shared last week, the Portland Bureau of Transportation is about to launch a major project on SW Naito that will have a dramatic impact for bicycling connectivity downtown. The big open house is tonight (1/10) and there's a lot of buzz around it already (Better Block PDX is making it their monthly meeting).
The star attraction at the open house will be concept drawings that give us a clearer view of what PBOT envisions for the new SW Naito. I haven't seen all of the drawings yet (I don't want to scoop the open house because that might discourage people from attending, although I will share them here as soon as they're available), but PBOT has leaked a few of them out in the past few days.

Check out the plans for the new crossing of Naito at Jefferson, just south of the Hawthorne Bridge:
Compare that with the current conditions at Jefferson and you can see why this project is such a big deal:
This is the view from the road about two blocks south of the Hawthorne Bridge:
And here's PBOT's rendering of how the new bikeway will look south of Market: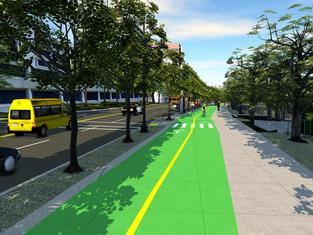 PBOT is calling this "a major facelift". Naito will be, "completely rebuilt from the ground up, with safety and efficiency improvements for all travel modes," from I-405 to just north of Jefferson. Other elements of the project are (via PBOT):
➤ New traffic signals, including a dedicated signal for vehicles accessing the Hawthorne Bridge and a pedestrian crossing signal to access Pettygrove Park, the Lovejoy Fountain, and the Halprin Blocks.
➤ New bicycle and pedestrian facilities on the east side of the street, including a new path and sidewalk. Currently, no bicycle or pedestrian facilities exist on the east side of SW Naito.
➤ Updated signal timing to improve traffic operations through the corridor.
➤ Improved crossings at major intersections to improve safety.
In an email from PBOT this morning, I also noticed an explicit mention of how this project is connected to Better Naito north of the Hawthorne Bridge: "The project's boundaries end just beyond SW Jefferson, allowing a future connection to the seasonal Better Naito project and year-round access to Waterfront Park" (it should only be a matter of time before we can stop calling it "seasonal"). Combine this with PBOT's recent completion of a new bike signal and protected bike lane from NE Davis to the Steel Bridge and we'll soon have a protected bikeway for the entire length of Waterfront Park. (Sidenote: It's clear that PBOT is doing whatever they can to surround the middle "Better Naito" portion with protected bikeways in order to bulk up their argument for making it permanent.)
Suffice it to say this could be a transformative project — and even though PBOT is already at 60% design, there's likely to be pressure to compromise the design. Some changes are to be expected, but we simply can't afford to make this a good bikeway when it has potential to be great. Please stay informed and ready to help PBOT do this right as the project moves through the public/political process.
Tonight's open house will have free snacks and it's open from 4:30 to 7:00 at the PSU Center for Executive Professional Education at 1500 SW 1st Ave., Suite 100. Facebook event link and more details on the BP Calendar.
— Jonathan Maus: (503) 706-8804, @jonathan_maus on Twitter and jonathan@bikeportland.org
Never miss a story. Sign-up for the daily BP Headlines email.
BikePortland needs your support.