The City's SW Capitol Highway Project — which will build a new bikeway between Multnomah Village and Taylors Ferry Road (Barbur Blvd) is finally getting underway and there's an open house tonight (11/29).
This is the project the community rallied to help save from a veto threat from Governor Kate Brown back in August. Brown planned to axe $2 million from the project's estimated price tag of $10-15 million. The project is being done jointly with the Bureau of Environmental Services due to stormwater management upgrades that are also needed.
At tonight's open house PBOT staff will give a short presentation at 6:30 pm and will be available to answer your questions.
PBOT is showing two different cross-sections that will be used in the 1.1 mile stretch of road. One is above in the lead photo and here's the other one:

And here are the major project elements (taken from PBOT's website):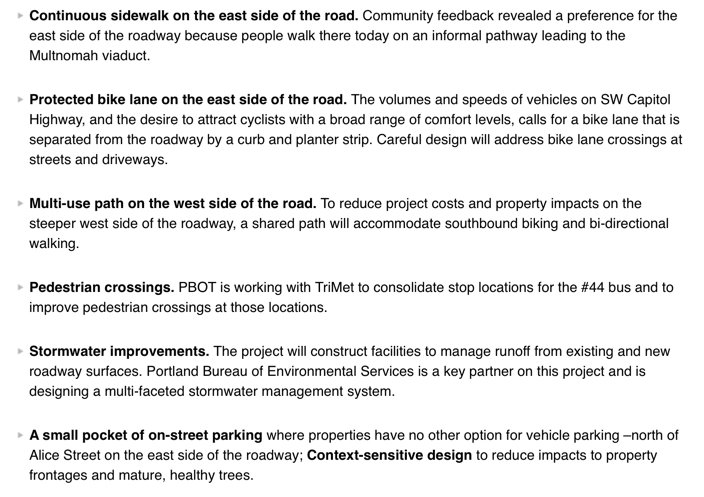 PBOT estimates completion of this project by Fall 2019.
The southern terminus of this project is Taylors Ferry Road, but advocates and planners want it to connect all the way to existing bike lanes on Barbur Blvd. To do this, the project must navigate through a tricky series of large intersections partially controlled by the Oregon Department of Transportation and known as the "Crossroads". PBOT is using that $2 million in state funding (from House Bill 5006) to separate out the Crossroads portion of the project, "in order to get continuous sidewalks and bike lanes to Barbur Blvd." Construction of this portion of the project isn't expected to begin until 2020 "at the earliest" (coordination with the proposed SW Corridor light rail project is likely one culprit for the delay).
Get all the details of tonight's open house and learn more about the project at PBOT's website.
— Jonathan Maus: (503) 706-8804, @jonathan_maus on Twitter and jonathan@bikeportland.org
Never miss a story. Sign-up for the daily BP Headlines email.
BikePortland needs your support.