SW Capitol Highway Preliminary Design Open House
November 29, 2017 at 6:00 pm

-

8:00 pm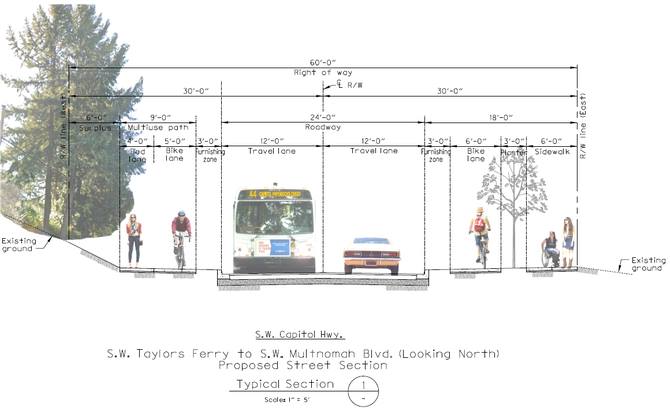 Join us for the SW Capitol Highway Preliminary Design Open House on Wednesday, November 29, 2017 at the Multnomah Arts Center Auditorium, 7688 SW Capitol Hwy. Drop in anytime between 6:00 and 8:00 p.m. Staff will give a short presentation at 6:30p.m. and be available for questions and comments for the remainder of the event. Light refreshments and kids activities will be available. For translation services, please email becky.tillson@portlandoregon.gov.
The open house will feature the preliminary design for street and stormwater improvements on SW Capitol Highway between SW Garden Home and SW Taylors Ferry roads. Portland's Bureau of Transportation and Bureau of Environmental Services are working in coordination on these improvements in order to reduce costs, improve efficiency, and enhance service delivery to the Portland community. The project is funded by the Fixing Our Streets gas tax, Transportation System Development Charges, and the Bureau of Environmental Services. Construction is anticipated to take place in 2019.
Please visit the project website, where you can view key elements of the preliminary design:
http://www.portlandoregon.gov/transportation/CapitolHwy
Feel free to contact the project manager, Steve Szigethy, with any questions about the preliminary design, the open house, or the project in general: steve.szigethy@portlandoregon.gov or (503) 823-5117.
One-on-one property owner visits
If you live or own property directly on SW Capitol Highway in the project area, PBOT and BES staff would like to meet with you at your property to discuss project impacts and next steps. Please contact David Backes, david.backes@portlandoregon.gov, or (503) 823-5811, to set up a time.