A man in a pickup truck allegedly forced a bicycle rider off the I-205 bike path in southeast Portland Saturday afternoon.

According to the Reddit thread where the incident was posted it happened where the path intersects with SE Steele Street, just east of Lents Park.
The person who posted the thread says he/she was a victim of verbal assault and called the Portland Police Bureau after it happened. "I was forced off the path today by these fine upstanding gentlemen who shouted 'FUCK YOU' and 'WE KNOW WHERE YOU LIVE'," wrote the Redditor named NewAgeHookers.
The person who posted the incident is a regular user of the path and says this isn't the first time they've encountered a motor vehicle on this section of the path. "Not only are the current bollards easily damaged (and seldom repaired)," wrote the poster, "the whole design of those loop-around streets is bad. All it takes to get on the path is hopping a low curb, and any old pickup can do that. It needs some kind of landscape barrier like earthen berms or rocks."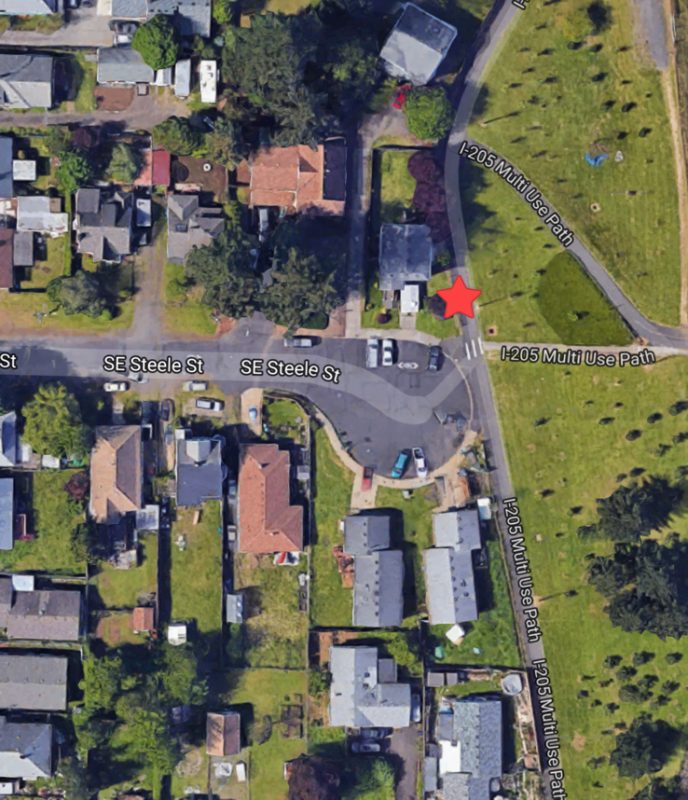 This isn't the first time we've reported on people driving on the 205 path.
In 2007 a man reported that he was run down by a pickup truck driver while biking on the section of the path in the middle of the Glenn Jackson Bridge. In 2013 a woman managed to drive onto the bridge path and got her small sedan stuck on a narrow section. And last year a woman drove onto the bike path from the SE Powell Blvd MAX station.
The Oregon Department of Transportation owns and manages the I-205 bike path; but when people use the path illegally ODOT defers to the PPB. We've reached out to both agencies for comment and will post anything we hear.
— Jonathan Maus: (503) 706-8804, @jonathan_maus on Twitter and jonathan@bikeportland.org
BikePortland is supported by the community (that means you!). Please become a subscriber or make a donation today.