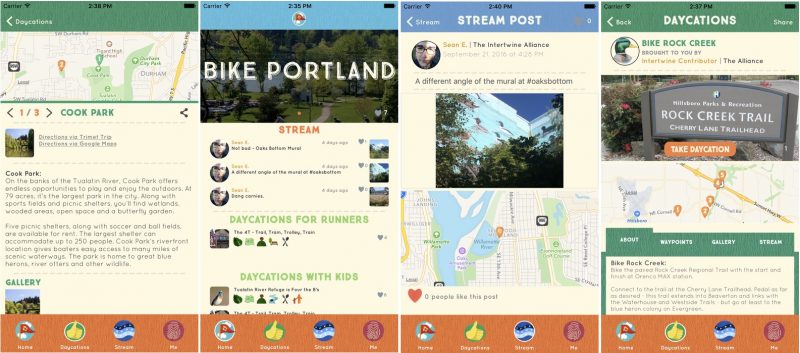 The Intertwine — a regional coalition of governments, and advocates for parks, paths and trails — has released a smartphone app. Daycation is a "nature exploration app" designed to inform and inspire you about fun things to do in Portland and Vancouver-area parks and natural spaces. It was developed in partnership with the U.S. Fish & Wildlife Service and Trailhead Labs.

I just downloaded it (available only for iOS at the moment) and it's full of cool features. There are about two dozen suggested adventures (a.k.a. "daycations") ready-to-go and more are being added all the time. What's nice is that you can filter search results based on things like location, preferred activity (biking, paddling, walking, and so on), whether a trip is good for kids, suitable for the elderly, is accessible via wheelchair, and so on. Each curated daycation comes with photos and waypoints that give insider tips and share information about the flora and fauna you might come across.
There are several cycling daycations to choose from already. There's even one called Bike Portland (which I swear I had nothing to do with).
Trailhead Labs has also incorporated a lot of sharing into the app. In the "Stream" you can see photos and comments about places from other users of the app, and you can share yours as well. Have a question about an interesting plant or bird? The app's makers say area naturalists monitor the Stream and are ready to give you an answer.
At this point, it doesn't look like you can create and share your own Daycations from inside the app. They point you to a webform to take care of that.
Here's the promo vid:
This is the first working release of the Daycation app and The Intertwine needs feedback in order to make it better. They're looking for beta testers who will download and use the app and then fill out a short assessment form. If you complete the process they'll send you a free t-shirt.
The Intertwine was launched by Metro in 2009 as a way to create a cohesive brand around the Portland-Vancouver metro region's trails, paths, parks, and natural areas.
Learn more about the Daycation initiatve on The Intertwine's website.
— Jonathan Maus: (503) 706-8804, @jonathan_maus on Twitter and jonathan@bikeportland.org
BikePortland is supported by the community (that means you!). Please become a subscriber or make a donation today.