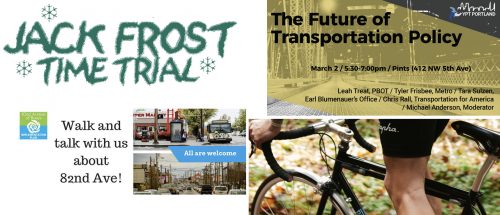 We're starting off your weekend tonight. You're welcome.
There are three events worth your attention on this fine Thursday: a panel discussion, a film screening and bike show, and a slideshow aimed to get you excited for making Portland a better place to ride.
Then on Saturday, how about stretching your legs a bit and riding up Saltzman Road, a popular route through Forest Park that was paved and open to cars until the late 1980s? You could also opt for a walking tour of 82nd Avenue with ODOT. They want to hear where and how you'd spend their money to make the street safer for vulnerable road users.
Whatever your plans are, have fun out there and be sure to report back about any good rides or events you take part in.
Thursday, March 2nd

The Future of Transportation – 5:30 to 7:30 pm at Pints Urban Taproom (412 NW 5th)
With major funding debates at the state and (possibly) federal levels, everyone is talking about the future of transportation. Come and hear what the brightest local minds are thinking at this panel and Q & A session hosted by the Portland chapter of Young Professionals in Transportation. Panelists include PBOT Director Leah Treat, Metro Policy Development Manager Tyler Frisbee, Transportation for America Field Organizer Chris Rall. The event will be moderated by People for Bikes writer (and former BikePortland News Editor) Michael Andersen. More info here.
Breadwinner Cycles Film Screening & Bike Show – 6:30 pm at Rapha North American HQ (1915 NW Kearney St)
A week from the North American Handmade Bicycle Show, Portland-based Breadwinner Cycles will share their bikes and a give you a sneak peek at their new film. Breadwinner and Rapha go way back and the apparel company will host the celebration with a screening and mini bike show. More info here.
BikeLoudPDX Social Meetup: Getting to Copenhagen – 7:00 pm at Mississippi Pizza (3552 N Mississippi Ave)
Get inspired and informed with a slideshow and discussion spurred by BikeLoudPDX volunteer Ted Buehler's latest bike tour. His trip included the Baltic cities of Helsinki, Stockholm, Tallinn, Riga, and Copenhagen. Ted will share lessons and strategies based on what he experienced and how these biking cities can help Portland. More info here.
Saturday, March 4th
La Boucle Des Roses – Stage 1 – 10:00 am at Saltzman Road
Here's something new: An unsanctioned group race on a pre-defined route that's open and free for anyone to participate in for a one-week period. There will be a roll-out at 10:00 am on Saturday but you can do the course anytime and have your times counted if you use the Ride With GPS app to track your ride. Stage 1 is a 3.5 mile time trial climb up Saltzman Road. There are five stages between Saturday (3/2) and Saturday April 1st. For more information, please read the official guide before heading out. More info here.
Walk and Talk with ODOT about 82nd Ave – 10:00 am and 2:00 pm (Cartlandia and JAMS)
As part of their 82nd Avenue of the Roses Implementation Plan, ODOT is hosting four walking tours along 82nd Avenue this month to hear your ideas for how to make the corridor better. There are two tours this Saturday and two next Saturday. Meet at 10:00 am at the Blue Room Bar in Cartlandia (8145 SE 82nd) or meeting at 2:00 pm at JAMS (Jade/APANO Multicultural Space, 8114 SE 82nd). Tours are offered in English and Spanish. More info here.
Sunday, March 5th
Jack Frost Time Trial (Race) – 9:00 am at Vancouver Lake Park (6801 NW Lower River Rd)
An Oregon tradition, this time trial marks the start of the local racing season. 20 kilometer time trial will give you a base test of where your fitness is and motivate you to keep training toward your goals this season. More info here.
What are your plans for the weekend?
For more fun events, including great stuff next week and beyond, visit our full events calendar.
— Jonathan Maus: (503) 706-8804, @jonathan_maus on Twitter and jonathan@bikeportland.org
BikePortland is supported by the community (that means you!). Please become a subscriber or make a donation today.
If you have questions or feedback about this site or my work, feel free to contact me at @jonathan_maus on Twitter, via email at maus.jonathan@gmail.com, or phone/text at 503-706-8804. Also, if you read and appreciate this site, please become a supporter.