The only refuge from fast-moving (and often irate) people driving cars across the St. Johns Bridge is still covered in a layer of gravel a month after the last snow storm.
As we first reported nearly three weeks ago, while driving is pretty much back to normal following major snow storms, biking is still hazardous. Massive potholes plague streets and many bike lane markings have all but vanished due to the constant scraping from tire chains, plows, studded tires, and gravel. And there are still many trees and limbs that block bicycle-only lanes — forcing people into adjacent lanes which increases the risk of collisions.
All our various road agencies need to place a much higher priority on the safety of all road users when it comes to their storm clean-up plans.
One of the most egregrious spots is on the sidewalk of the St. Johns Bridge. There's so much gravel that in some parts you can't see the surface of the sidewalk. This is a big deal because the St. Johns Bridge is a vital bicycling connection and the roadway lacks bike lanes. With large diesel trucks rumbling inches away, the narow St. Johns Bridge sidewalks are already sketchy enough. Add slippery gravel and you've got even more stressful situation.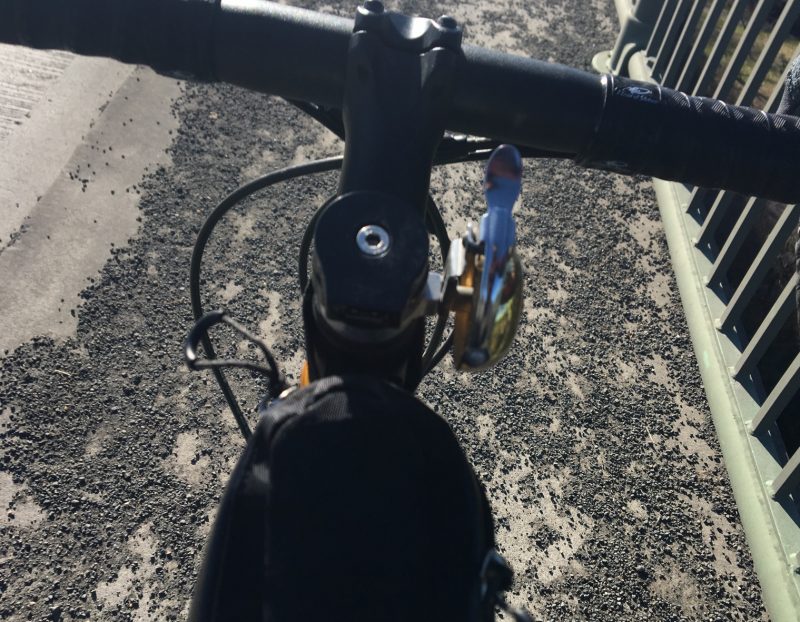 When I first saw the gravel on February 4th I tweeted the Oregon Department of Transportation to put the issue on their radar…
And @OregonDOT the condition of St Johns Bridge sidewalk is really really bad. You've had many weeks to sweep it. Please send help. Thx. pic.twitter.com/dWVf7J0dyM

— BikePortland (@BikePortland) February 4, 2017
To my surprise an ODOT rep has confirmed with me that they are not responsible for sweeping the sidewalks. Even though ODOT owns and maintains the bridge and roadway, they have a special maintenance agreement with City of Portland Bureau of Transportation. Turns out it's PBOT's responsibility to keep the sidewalk clean.
On February 6th I got an email from PBOT about the gravel. They'd seen my tweet to ODOT and were curious if I was writing a story about it. Yes I was, I replied. "We're almost a full month since the last snow fell on the ground and I was pretty surprised that such key arteries of our active transportation system were in such terrible shape," I said. And then I asked, "Can you help me understand why we have the situation we do on the St. Johns Bridge and Hwy 30? How can it take a month (and counting) to address key traffic lanes and routes in places where there is no alternate route for bicycle users?"
I didn't hear anything back. I followed up three days later and still haven't gotten a reply. (See below for update.)
As of last night (February 13th) the gravel remains on the St. Johns Bridge sidewalk.
In related news, Highway between downtown and the St. Johns Bridge was in terrible shape as of last week.
Umm @PBOTinfo … Hwy 30 bike lanes are in dire need of help. Flat out dangerous in many spots. Send out a sweeper ASAP please? Thx. pic.twitter.com/vS0pfcGsBd

— BikePortland (@BikePortland) February 4, 2017
Thankfully much of the gravel has been swept in the past few days, but a large tree still completely blocks the bike lane north of Saltzman Road.
Back in January, PBOT said they hoped to have the gravel picked up by mid-February. We appreciate all the work they have done — and continue to do — to clear the shoulders and bike lanes. Perhaps in the future we can do a better job to make sure that key routes like the St. Johns Bridge, Willamette Blvd (which I hear just got swept today), and Highway 30, can be prioritized and cleaned up much more quickly.
We are also concerned about the response times of ODOT and Washington County in addressing this issue. We've heard from readers that major streets like Barbur and key bike routes on the West Side remain full of debris. Please continue to share your reports with us (directly and in the comments) so we can keep track of the problem and hopefully get it resolved soon.
UPDATE, 2:57 pm: I have heard back from PBOT about the St. Johns Bridge. Here's the latest from Communications Director John Brady:
"I can confirm that we have an agreement to sweep the St. John's Bridge sidewalks. We are aware of the issues that folks have with the gravel. Removing the gravel is a bit more complex than simply running a sweeper because we first have to get it off the sidewalk and into the street. Then we can sweep it up. In order to do this safely, we have to temporarily limit access to the lane. So there is a bit more traffic control involved than just a normal sweeping run. We've prioritized and hope to have it done next week. If this schedule changes, we will let you and your readers know.

In terms of the tree down, the best thing to do is to call 503-823-1700. This is also the best line for gravel and other urgent road hazards. Folks can also use the PDXreporter app or email PDXroads@portlandoregon.gov."
— Jonathan Maus: (503) 706-8804, @jonathan_maus on Twitter and jonathan@bikeportland.org
BikePortland is supported by the community (that means you!). Please become a subscriber or make a donation today.