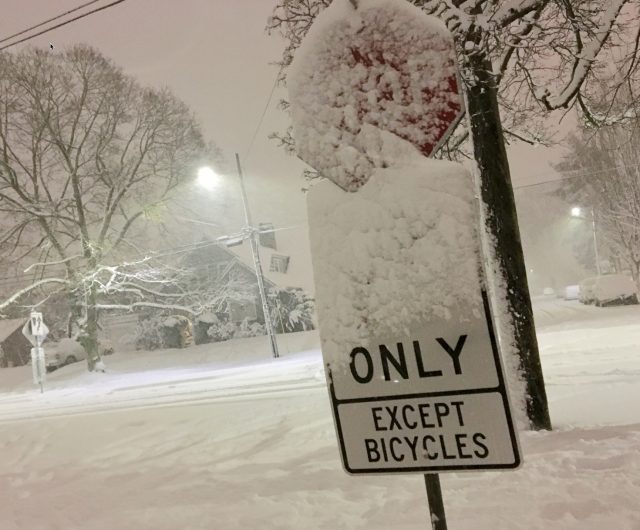 A record amount of snow has fallen in Portland. There's over a foot in some places, it's still falling, and forecasters say it's not going anywhere.
Most of the city has shut down. Schools, government offices, and many businesses can't stay open because driving is so hazardous that people simply can't reach destinations (imagine if more of us lived closer to where we work!). This means our streets are mostly quiet and calm — perfect for us to enjoy as should always be the case.
What does all this mean for you? Are you still biking? What are your plans for today?
Last night around 11:00 pm I ventured out to see if my local Biketown station would work. After brushing off a half-foot of snow from the LCD monitor, the system worked perfectly. I checked out a bike and rode around a few blocks. It was tricky biking on side-streets where there's not a track carved out from vehicles — but overall the well-balanced, hefty, and sturdy bikes ride extremely well in these conditions. Bikes with knobbies and big tires are especially fun in fresh powder. Check out the shot below taken by local racer Josh Kelley on his way to work this morning…
I plan to venture out again this morning. I'll report back here to share how it goes.
With buses, light-rail, streetcar and cars rendered either useless or unreliable — it appears that once again walking and biking win the day. Let's revisit the hierarchy of mobility resiliency shall we…
Have fun out there!
— Jonathan Maus: (503) 706-8804, @jonathan_maus on Twitter and jonathan@bikeportland.org
BikePortland is supported by the community (that means you!). Please become a subscriber or make a donation today.