Thanks in part to the passage of the Fix Our Streets gas tax increase the City of Portland is finally going to build what many consider to be southwest Portland's highest priority transportation project: A redesign of SW Capitol Highway between Multnomah Village and Taylors Ferry Road.
This one-mile north-south stretch of Capitol Highway has been on the radar of PBOT and neighborhood advocates for over 20 years. It was listed as a priority in the 1996 Capitol Highway Plan and since then has been bounced around many project lists and planning documents. The reason for the delay has been the relatively high cost: Because of its topography and stormwater management issues the project has always been on the expensive side.
Last night at the City's Bicycle Advisory Committee meeting, PBOT project manager Steven Szigethy said the project is estimated to cost $10-12 million. Funding is now in hand thanks to $3.3 million from the Fix Our Streets fund and another $6-7 million from transportation and stormwater system development charges (fees paid by developers to improve infrastructure).

We rode the southern section (in red).
This key stretch of road currently has little to no shoulder for bicycling or walking or rolling. We experienced it first-hand in 2015 during our Southwest Portland Week when we took an in-depth look at the project with longtime southwest Portland transportation advocate Roger Averbeck.
Averbeck is a member of the Bike Advisory Committee and he saw PBOT's proposed cross-section for the first time last night. Here's what PBOT wants to do with the 60-foot right-of-way: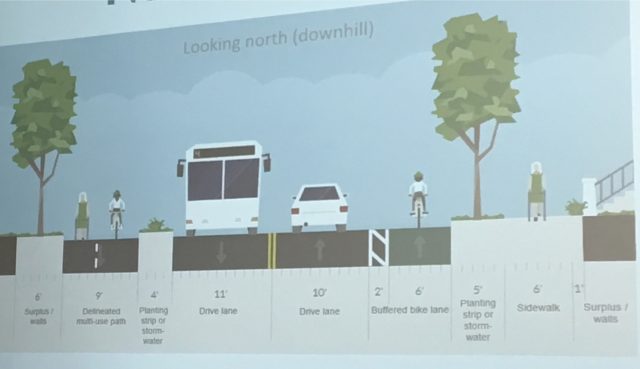 As you can see in the graphic above, the cross-section north of SW Alice Street (which is the majority of the project) will have a nine-foot path for northbound walking and biking traffic separated by a four-foot planting strip. On the west side of the street (southbound) the bikeway would be six-feet wide with a two-foot buffer. Szigethy said PBOT is considering some sort of flex-posts in the buffer to create physical protections.
South of Alice Street as Capitol Highway approached Taylors Ferry and Barbur Blvd., the cross-section would change slightly:
Committee member and southwest Portland resident Keith Liden encouraged PBOT to make sure the new design connects safely to SW Multnomah Blvd and Barbur.
At this point PBOT is still getting feedback on the cross-section design and has several outreach events planned this fall and early next year. Full design will be completed in late 2017 and construction is likely to start in 2019 and end in 2020.
— Jonathan Maus, (503) 706-8804 – jonathan@bikeportland.org
BikePortland is supported by the community (that means you!). Please become a subscriber or make a donation today.