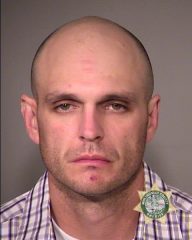 The Portland Police Bureau has nabbed another big-time thief who has a taste for high-end bicycles.
The PPB worked with officers from the Bike Theft Task Force and task force partner BikeIndex.org to arrest Joshua Dutcherson last Thursday. The 32-year-old suspect is being held in connection with three burglaries of apartment complex garages where he's accused of lifting "numerous bicycles."
Here's how it went down, via the official police statement about the case:
The Bike Index website (https://bikeindex.org/) was instrumental in identifying some of the stolen bikes. An off-duty detective saw a suspicious van with three high end racing bikes the week prior and took note of the plate and the driver. While officers were investigating some new bike thefts the detective recognized the suspect and the vehicle as the same one he had seen a week prior…

Dutcherson is believed to have burglarized several locations in Southeast Portland to steal bicycles and re-sell them online. Dutcherson is suspected of breaking into locations in the 2600 block of Southeast Ankeny Street, the 1300 block of Southeast Umatilla Street and the 1600 block of Southeast Harold Street.

Detectives recovered three stolen bikes from Dutcherson who had already sold them to unsuspecting buyers. Detectives were able to locate the bikes and returned them to their rightful owners.
Dutcherson was booked into Multnomah County Jail on four counts of Burglary in the First Degree, three counts of Theft in the First Degree, Possession of Heroin, and Theft in the First Degree by Receiving. Dutcherson had outstanding warrants and was on probation for burglary when he was arrested.
This arrest is the result of closer coordination between the Police Bureau and members of the Bike Theft Task Force which includes Bryan Hance from Bike Index and is spearheaded by PPB Officers Dave Bryant and Dave Sanders. One of the major fronts of recent battles has been OfferUp, an online marketplace that's an alternative to Craigslist and eBay. OfferUp and the Bike Theft Task Force have been actively working together to crack down on bike thieves — and it looks like these efforts are starting to pay off.
— Jonathan Maus, (503) 706-8804 – jonathan@bikeportland.org
BikePortland is supported by the community (that means you!). Please become a subscriber or make a donation today.