The Bicycle Transportation Alliance (soon to be known as The Street Trust) is getting ready for its biggest fundraiser of the year: The Alice Awards and auction.
The event happens Saturday night in north Portland. Beyond raising money for the organization's advocacy work, the Alice Awards are a time to honor people in the community who are going above and beyond to "open minds and roads to bicycling" (as the inscription on the award reads).
Included with the $150 ticket this year is the new Encore after-party which will let local biking leaders and their dates dance well into the night while staying cozy around a bonfire. If you stay for the party you'll also get first peek at the BTA's new "Street Trust" logo.
Before the fun and fundraising starts, let's take a look at this year's four Alice Award winners…

Biketown
This award will go to representatives from Nike, Motivate (Biketown's operator), and the Portland Bureau of Transportation. Unless you've lived under a rock for the past few months you know how successful Portland's bike share program has been. And its success is not a fluke. It was a long and hard road to endure for the City of Portland, who withstood controversy and a bit of ridicule for the multi-year process of finding a vendor and sponsors that would bring the plans all together. Challenges to ensure Biketown's success still lie ahead, but it's off to a great start and definitely worthy of recognition.
Oregon and SW Washington Families for Safe Streets
Losing a loved one to a traffic crash seems like an impossible tragedy to most of us. Imagine having that happen to you and then having the fortitude to face it head-on and become a public figure that fights for safety improvements so it doesn't happen to anyone else. That's what the people behind Oregon and SW Washington Familes for Safe Streets have done for nearly a year now. Led by Kristi Finney, Susan Kubota and Kim Stone, the group provides a support network and advocacy platform for families of traffic crash victims. Their strength to re-live the tragedies that have so altered their lives is inspiring and admirable.
Hassalo on Eighth, Builders Award
As you've been learning about for years here on on the front page, Hassalo on Eighth is the name of a major development in the Lloyd District that bills itself as "Portland's newest neighborhood." This award will go to representatives of the real estate company (Wade Lange from American Assets Trust) and architecture firm (Kyle Andersen of GBD Architects) behind this three-building development that sits adjacent to the protected bike lane on Northeast Multnomah. Hassalo is also home to the Lloyd Cycle Station, a massive bike parking facility that has room for 600 bikes and includes showers, a repair station and valet parking. So civilized!
Meeky Blizzard, Bud Clark Lifetime Achievement Award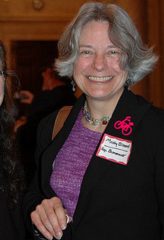 Meeky, the long-time former Livable Communities Advisor for U.S. Congressman Earl Blumenauer, goes way back. Over the past twenty years she's been actively involved in local and regional transportation and land-use battles, such as the fight to stop the Western Bypass freeway project — a fight she continues even in retirement as co-chair of the Washington County Transportation Futures Committee. She was instrumental in pushing for light rail and streetcar extensions during her time on Blumenauer's staff both on Capitol Hill and during his time on Portland City Council in the 1990s. We're thrilled to see Meeky's work recognized.


In other BTA news, two more staffers are leaving the organization. Washington County advocate Lisa Frank and Program Manager Nicole Davenport are both moving on. Frank shared her news in a blog post that recapped her three years working to improve road conditions on the west side. Davenport, who worked on the BTA's Women Bike program, announced her decision in a blog post today. These staffing changes follow the departures of two senior staffers this year: Advocacy and Engagement Manager Carl Larson left in January and Deputy Director Stephanie Noll stepped down back in July.
Earlier this month the BTA released its 2014-2015 annual financial report. The organization brought in $1,287,397 dollars in revenue in FY 2015, that was up from $1,188,195 in revenue in 2014. Total expenses for 2015 were $516,806, up from $339,690 the previous year. Net income in 2015 was $46,629, down from $73,023 in 2014.
NOTE: This post has been updated with corrected financial figures after it was brought to our attention that the BTA had made a typographical error in their financial report. We regret any confusion.
— Jonathan Maus, (503) 706-8804 – jonathan@bikeportland.org
BikePortland is supported by the community (that means you!). Please become a subscriber or make a donation today.