The power of bicycles to bring people together and break down barriers is truly awe-inspiring. We've seen this take many forms over the years and now we can add a recent event hosted by the Portland Police Bureau to the list.

Earlier this month at North Precinct (449 NE Emerson Street) the PPB's Youth Services Division teamed up with the Fire Bureau, and the Blazer's Boys and Girls Club to host a bike safety fiesta in northeast Portland. Despite sweltering temperatures that reached nearly 100 degrees, an estimated 350 people showed up and the event was a smashing success.
A statement from the PPB says that the crowd included everything from infants to grandparents and great-grandparents — and a true cross-section of the neighborhood.
At the event people were given free school supplies, backpacks, lunch, and free bike helmets (all thanks to donations from community partners). Beyond the lessons learned about biking, Sergeant Tim Sessions of the Youth Services Division pointed out that, "Friends were made with lasting impressions."
Here are a few photos from the event (provided by the PPB):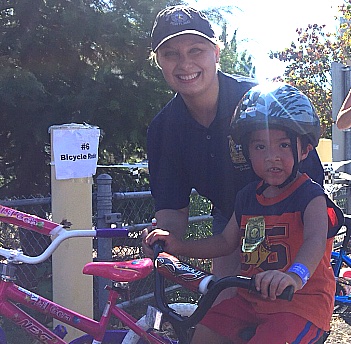 — Jonathan Maus, (503) 706-8804 – jonathan@bikeportland.org
BikePortland is supported by the community (that means you!). Please become a subscriber or make a donation today.
Contact Jonathan at @jonathan_maus on Twitter, via email at maus.jonathan@gmail.com, or phone/text at 503-706-8804. Also, if you read and appreciate this site, please become a supporter.